ZOOMJO Trailer-Mounted Concrete Pumps For Sale in Malaysia

2023-06-28 16:42
ZOOMJO is committed to providing our Malaysian customers with the highest quality trailer-mounted concrete pump services and handling the entire production and delivery process. Here is how we met the needs of a recent customer: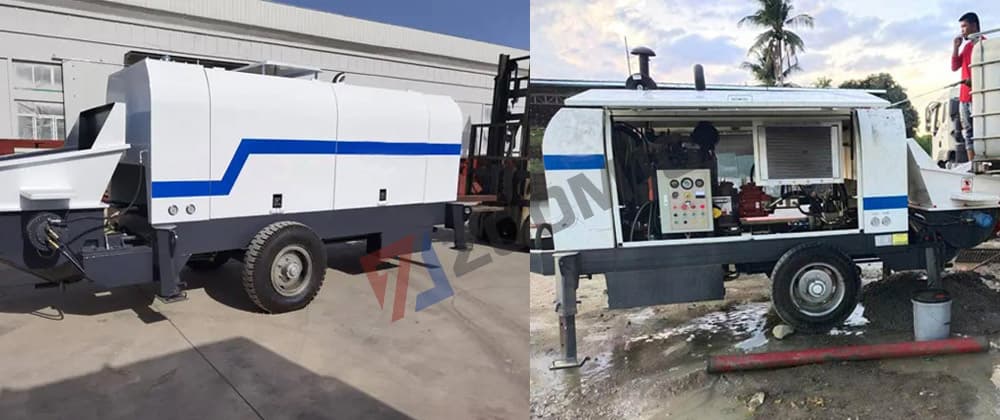 The customer is a Malaysian construction company who needed to transfer liquid concrete from a mixer truck to a construction site. The customer contacted us and explained in detail their application requirements and the scenarios and scope of use.
After carefully understanding the customer's needs, we recommended our self-developed trailer-mounted concrete pump to them. This special concrete pump can be customized to meet specific needs and is equipped with replaceable spare parts.
Excellent Concrete Trailer Pump Manufacturer
Electric concrete trailer pumps are ideal for transporting liquid concrete from the container to the construction site. For construction sites where concrete needs to be poured quickly, ZOOMJO's 60m3/h electric concrete trailer pump is the best choice for increased pouring accuracy.
We recommended our products to our customers and sent them the corresponding product information to let them know about our concrete pumps. Our trailing concrete pump impressed the customer with its excellent quality and affordable price. After the customer was satisfied with the product, we immediately started the ordering and production process for ZOOMJO concrete pumps and completed the order within the urgent deadline, while saving the customer about 18%! As a concrete pump manufacturer, we have the cheapest factory prices, and that's where we come in!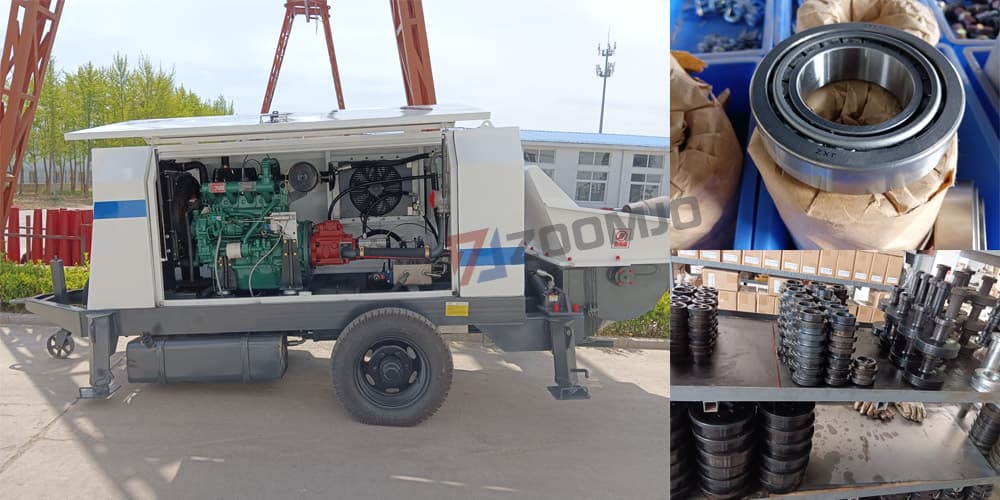 Find the Right Affordable Concrete Pump
If you need to buy a concrete pump, or need a concrete mixer pump, batching plant, self-loading truck or other type of machinery and equipment, we will be more than happy to help you. With our extensive industry experience, we can always offer our customers the best equipment and the best prices. Simply provide us with your company's specific needs and we will efficiently meet your requirements, complete the process, and help you save money.
What is the capacity of a trailer concrete pump?
ZOOMJO's towed concrete pump can transport concrete with aggregate size of 4cm and below, with a displacement range from 24m³/h to 100m³/h. The electric concrete towed pump can be used in a wide range of scenarios, not only for construction sites, but also for concrete placement in bridge projects, highway construction, tunnels, water conservancy projects and other large projects. It has the advantages of strong flexibility, convenient operation, good mixing effect, safety and reliability, simple maintenance, etc.
concrete pump specifications
ZBT40D Electric Concrete Trailer Pump
ZBT60D Electric Concrete Trailer Pump
ZBT80D Electric Concrete Trailer Pump
Where do you sell quality concrete pumps?
Our electric concrete trailer pump has been sold to many regions and countries in Southeast Asia, Africa and South America, such as Singapore, Malaysia, Vietnam, Thailand, Indonesia, etc. The feedback from customers is very good, not only saving cost, but also improving construction efficiency, and getting good reputation of our products.
ZOOMJO Electric Concrete Trailer Pump to Kyrgyzstan
ZOOMJO Diesel Concrete Trailer Pump and Self-dumping Concrete Mixer sold to Singapore
ZOOMJO electric concrete trailer pump for Phnom Penh construction
ZOOMJO concrete pumps for infrastructure construction in Myanmar
ZOOMJO delivers ZBT40C diesel concrete trailer pump to Colombia
Customer in Indonesia orders electric concrete trailer pump
Australian customer buys Zbt80C diesel concrete trailer pump again
Whether you are looking for a concrete pump or need a reliable partner to provide you and your customers with affordable but high quality equipment, just provide us with your company's specific needs and ZOOMJO will meet your requirements, complete the process efficiently, and help you save money!