JS2000 Concrete Mixers

Product Description
Concrete mixer is one of the important equipment necessary for construction sites, its function is to mix raw materials evenly to make high quality concrete. With the features of high production efficiency, simple structure, easy operation, strong adaptability, energy saving and environmental protection, etc.
Concrete mixer adopts advanced design and technology to put raw materials such as cement, sand, gravel and water into the hopper of the mixer, and then rotate the mixing cylinder driven by the motor to mix the raw materials fully.
The concrete mixer consists of hopper, mixing cylinder, transmission device, motor, support frame, shock absorbing device and hydraulic system and other components. As a complete equipment, concrete mixer is popular for its compact structure, easy operation, high production efficiency, uniform mixing and strong adaptability.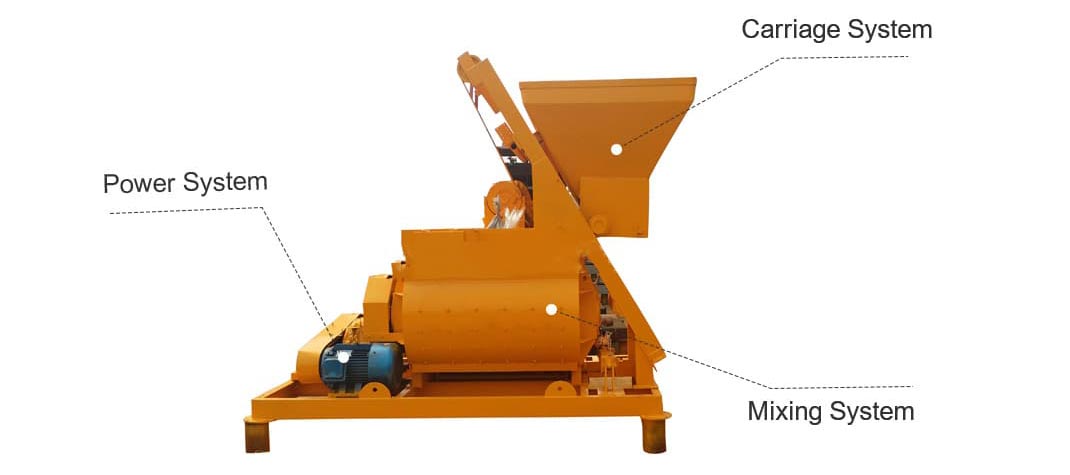 Concrete mixer is widely used in the fields of roads, bridges, tunnels, water conservancy projects and construction. It can mix the raw materials evenly to make high quality concrete and provide convenience for construction sites.
The concrete mixer has a special barrel design, which can mix the raw materials quickly and evenly to make high quality concrete. The concrete mixer adopts the electronic control system to realize automatic control, which greatly improves the production efficiency. With simple structure, easy to operate and maintain, the concrete mixer is suitable for mixing various raw materials and can make different types of concrete.
ZOOMJO has been in the leading position in the concrete mixer industry, and our products have become the first choice of customers at home and abroad. We are constantly developing and improving our product performance to provide our customers with more efficient, stable and energy-saving mixers. Our concrete mixers are also exported to Vietnam, Laos, Philippines, Singapore, Australia, Peru, Sri Lanka and many other countries and regions.
JS2000 Concrete Mixers

Configuration
| | | |
| --- | --- | --- |
| Model | Capacity(m3/h) | Power(KW) |
| JS3000 Concrete Mixer | 150-180 | 113 |
| JS2000 Concrete Mixer | 80-100 | 77 |
| JS1500 Concrete Mixer | 75-90 | 65.5 |
| JS1000 Concrete Mixer | 50 | 51 |
| JS750 Concrete Mixer | 30-35 | 39 |
| JS500 Concrete Mixer | 20-25 | 25 |
| JZM750 Electric Concrete Mixer | 25-30 | 25 |
| JZR500 Diesel Concrete Mixer | 20-25 | 22 |
| JZR350 Diesel Concrete Mixer | 10-15 | 16 |
Inquiry
If you would like to contact us for more information about our products, please fill out the form below, thank you.