ZBT40C Diesel Concrete Trailer Pumps

Product Description
Diesel concrete trailer pump is a brand new concrete conveying equipment, which is driven by diesel engine and can effectively convey concrete to the construction site, thus realizing automatic pouring and greatly improving the construction efficiency. It has a towing structure and can run flexibly, saving manpower and material resources to meet the construction requirements.
Application Scenario
ZBT series towed concrete pump has the advantages of compact structure, reliable operation and convenient maintenance, and can convey concrete with aggregate size of 4cm and below, and the displacement range is from 24m³/h to 100m³/h. It adopts advanced hybrid transmission technology of diesel engine and diesel pump, which has the advantages of high flexibility, convenient operation, good mixing effect, safety and reliability, and simple maintenance, etc. It is suitable for construction sites, It is suitable for concrete pouring in large projects such as construction sites, bridge projects, highway construction, tunnels and water conservancy projects.
Product structure
The structure of diesel concrete trailer pump consists of main machine, hydraulic system, control system, bracket, mixing system, etc. It has the features of compact structure, convenient operation, good concrete placing effect, long concrete placing distance, safety and reliability, etc.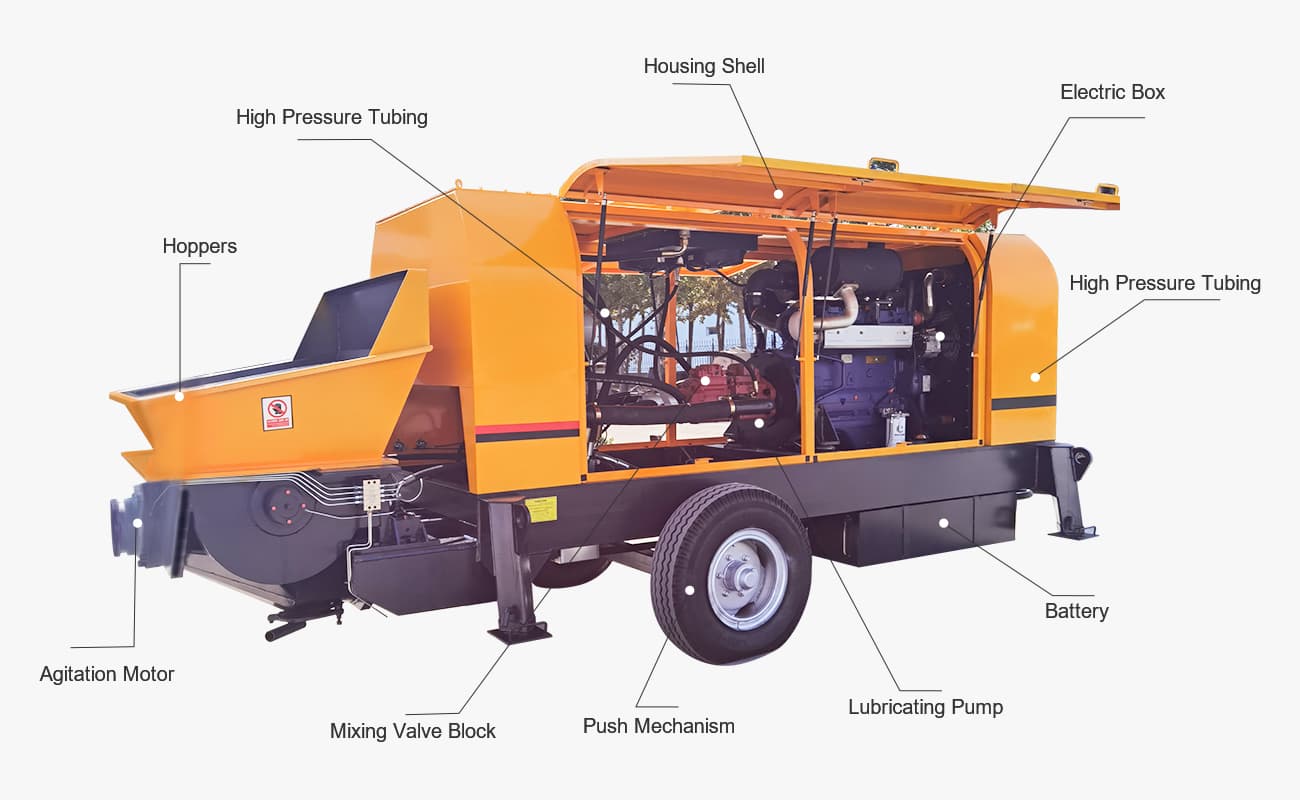 The diesel concrete trailer pump produced by ZOOMJO has these advantages.
Power unit
There are multiple power units to choose from. The power unit of concrete pump is usually electric driven or diesel driven, depending on the model of the pump, different power motors or diesel engines are used.
Electrical system
The electric control system of diesel concrete pump adopts OMRON programmable PLC, with simplified wiring, stable and reliable control, and the whole series are equipped with wireless remote control as standard, which is flexible and convenient to operate.
Hydraulic system
Our hydraulic system adopts electric control system, the system is mature and simple, low failure rate, the oil pump and valve group use famous brand products, mature technology, stable performance. This is the core system of the pump, the concrete pump can hit the concrete to dozens of floors of high buildings relying on the principle of hydraulic system.
Pumping system
Concrete pumping system, consisting of the main cylinder, delivery cylinder, piston and water tank, is the main component of the concrete pumping system.
Cooling system
Composed of air cooling and water cooling system, double cooling ensures that the motor will not burn out, so that the concrete pump can realize long time continuous pumping.
Lubrication system
Protect the transmission system of the pumping machine and make it run more smoothly. The whole series adopts automatic centralized lubrication, high oil supply pressure, uniform oil supply, lubrication effect is guaranteed.
Structure material
The machine cover is made of thickened steel plate with strong wear resistance, which can effectively protect the core parts of the concrete pump. The frame is made of thickened stainless steel square tube welding, with solid structure and strong stability. The chassis adopts trailer axle design, which is convenient to move and transfer. The hopper adopts wider design and 30 degree tilt design, which makes loading more convenient.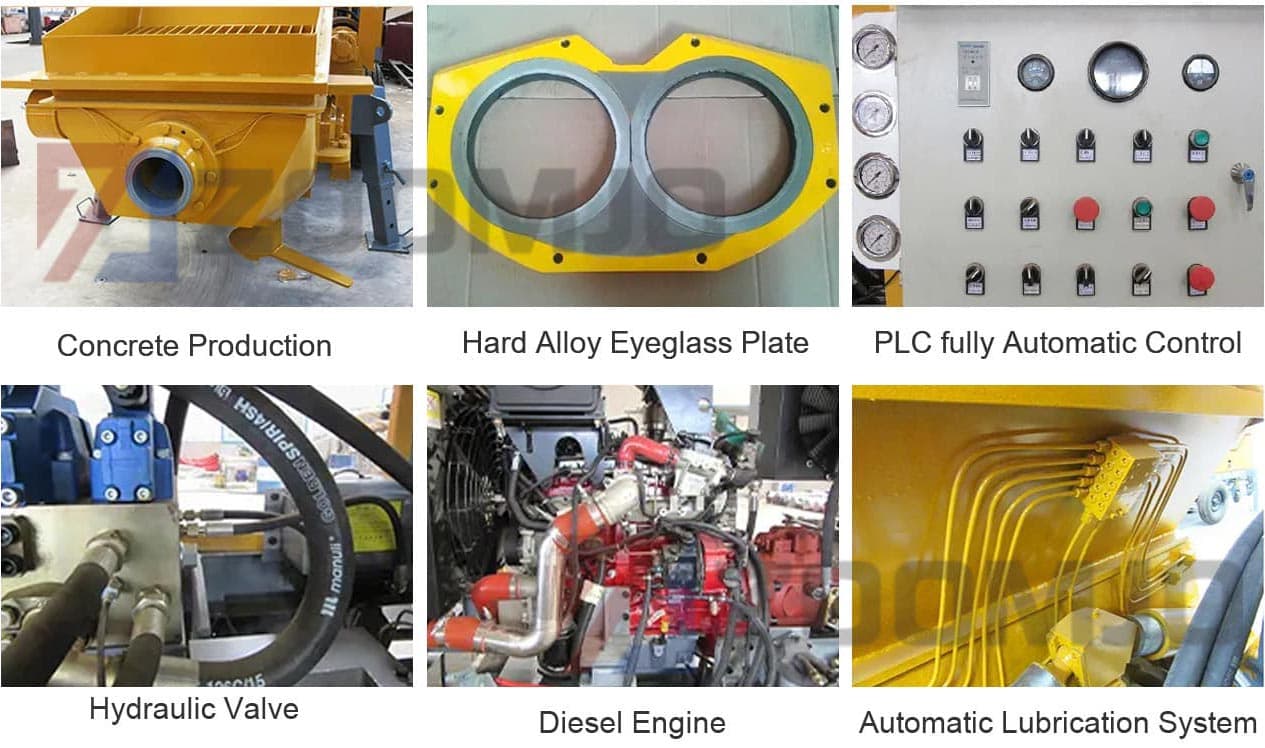 Should I choose electric or diesel concrete trailer pump?
If the external power is sufficient and convenient, you can choose the electric version of the concrete pump, which is cheaper than diesel. Diesel concrete trailer pumps can be used in any construction site especially where there is no electricity, or where the power supply is unstable, such as river areas, tunnels, remote mountainous areas, etc.
Features of ZOOMJO's diesel concrete trailer pump.
1. High pumping efficiency, the actual pumping efficiency reaches more than 80% of the theoretical value
2. Cost saving, it is much cheaper than concrete boom truck. Diesel concrete trailer pump saves labor and time cost and improves efficiency.
3. simple operation, the operator only needs to master certain operation skills to complete the operation of the trailer pump.
4. The maintenance of diesel concrete trailer pump is simple and does not require highly skilled maintenance personnel.
5. Easy to move; the machine has wheels, we can tow it to another work place with a car.
ZOOMJO specializes in providing diesel concrete trailer pumps, which have been sold to many countries in Southeast Asia, Africa and South America, etc. The feedback from customers are very good, not only can we save cost, but also can improve the construction efficiency and get a good reputation of our products.
We also provide stationary concrete mixing plant, mobile concrete mixing plant, foundationless concrete mixing plant, concrete mixing pump, concrete trailer pump, self-discharging concrete mixer, etc. to meet different needs of customers. If you have any questions about concrete mixing equipment, please feel free to contact us, we will be happy to serve you.
ZBT40C Diesel Concrete Trailer Pumps

Configuration
| | | | |
| --- | --- | --- | --- |
| Model | ZBT40C-12-66 | ZBT60C-12--82 | ZBT80C-12.5--129 |
| Max. concrete output (m3/h) | 53/29 | 61/38 | 98/59 |
| Max.concrete pumping pressure (MPa) | 12/6 | 12/7 | 12.5/7.5 |
| Distribution valve type | S | S | S |
| Concrete cylinder diameter*stroke(mm) | 180/1300 | 200/1650 | 200/1800 |
| Hopper volume (m3) | 0.6 | 0.7 | 0.8 |
| Outlet diameter(mm) | 125 | 180 | 180 |
| Electrical engineering power(KW) | 66 | 82 | 129 |
| Rotate speed(r/min) | 2200 | 2200 | 2200 |
| Pumping system pressure(MPa) | 32 | 32 | 32 |
| Mixing system pressure(MPa) | 10 | 10 | 10 |
| Max mixing speed(r/min) | 25 | 25 | 25 |
| Capacity of oil tank(L) | 90 | 90 | 150 |
| Maximum conveying distance(m) | 120/500 | 180/1000 | 260/1200 |
| Max. aggregate diameter(mm) | 40 | 40 | 50 |
| lnside diameter of delivering pipe(mm) | 125 | 150 | 180 |
| Dimensions:(L*W*H)(mm) | 4800x1750x1900 | 4800x1750x1900 | 6000x2000x2200 |
| Total weight(kg) | 3500 | 4200 | 5800 |
Inquiry
If you would like to contact us for more information about our products, please fill out the form below, thank you.