ZBJ30C Diesel Concrete Mixers Pumps

Product Description
Diesel concrete mixer pump is powered by diesel engine, integrating drum mixer and pump, which can convey large aggregate concrete and fine concrete or mortar, especially suitable for small volume of projects and frequent transfer occasions. This series of products are especially popular in foreign countries and regions where electric power is not available.
Taking a small forklift and a diesel concrete mixer pump as an example, it can replace the workload of five or six people, and the work efficiency is increased several times. By using a forklift to send sand, stone, cement and other materials to the mixer trailer pump, and by remote control operation of the mixer trailer pump loading, you can easily complete the mixing of concrete and pour the concrete to the designated construction site through the pump, which is simple and convenient to operate and greatly saves labor.
Use scenario
Diesel concrete mixing trailer pump is widely used in the construction environment of filling secondary structure columns and pouring columns, especially in railroad highway tunnels, water diversion tunnels, culverts, mine tunnels, bridge tunnels, etc. In addition, it can also be used in water conservancy project, hydropower project, slope support, underground construction project, foundation filling project, structural column pouring of large buildings, etc. ZBJ series concrete pump can convey concrete with aggregate size of 4cm and below, and the displacement range is from 40m³/h to 100m³/h, which is suitable for concrete or mortar conveying in civil engineering, transportation, railroad, water conservancy, electric power and national defense projects.
ZOOMJO's concrete mixing pump adopts advanced technology, featuring high efficiency, low energy consumption, stability and reliability.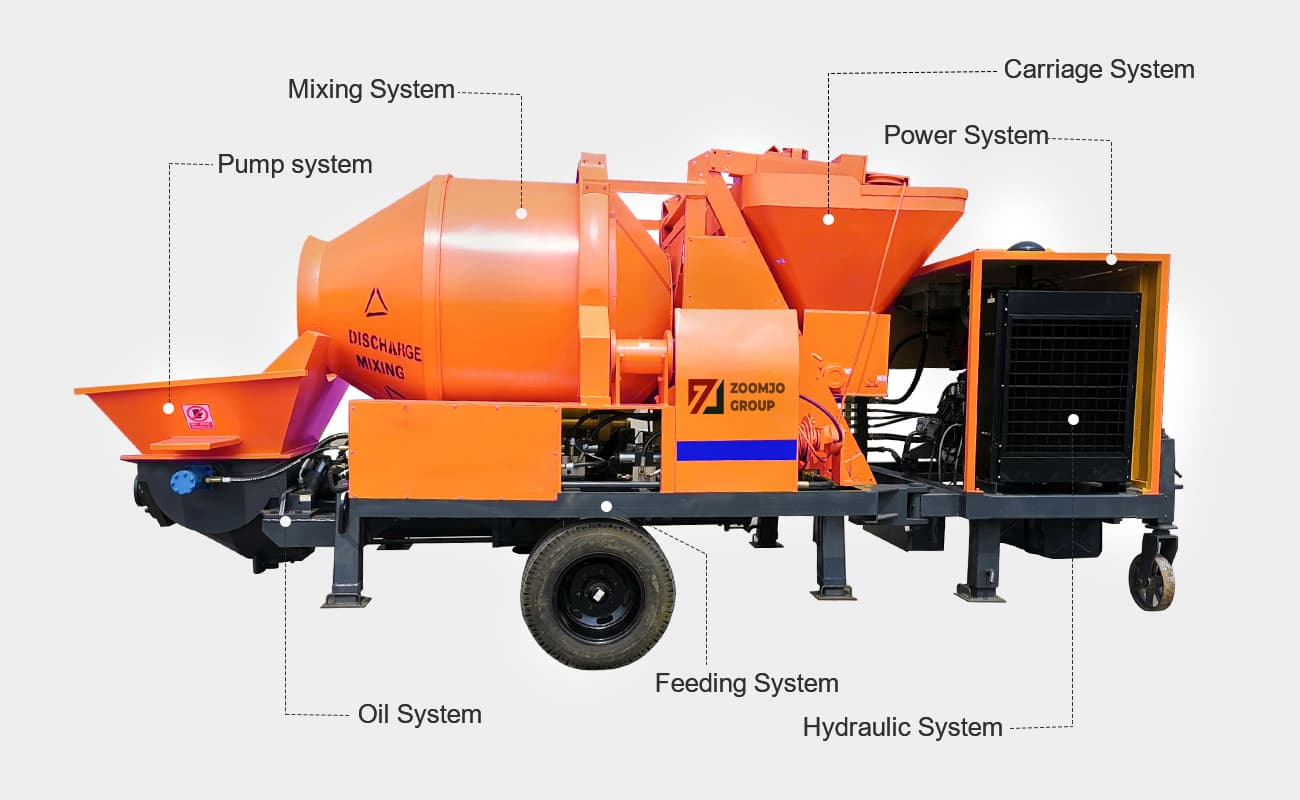 Main technical features
Hydraulic system
It adopts double-pump, double-loop open hydraulic system, the main pumping oil circuit and S-valve swing oil circuit are independent of each other, which makes the system simple, prolongs the life of components, higher reliability, and facilitates fault judgment and troubleshooting. The main pumping oil circuit adopts large diameter valve reversing, with fast response, small internal leakage, good stability, high reliability, and high pollution resistance.
Electric control system
Compared with similar products in China, the electric control system is simple, with a small number of components and reliability. Equipped with wired remote control device, convenient for long-distance operation. Non-contact commutation by proximity switch inside the cylinder ensures reliable commutation.
Mechanical system
The design of key stress components such as hopper and S-valve adopts I-DEAS software for finite element calculation of its stress state, structural stiffness and stress concentration condition with subdivided mesh, and the designed hopper and S-valve have good structural stiffness and good workmanship, which avoids the hopper deformation and S-valve broken shaft phenomenon during high level conveying of similar products.
Longer life of wearing parts
The eye plate and cutting ring of concrete pump should be used under low wear and tear to ensure good pumping condition and reduce the occurrence of pipe blockage. Our company adopts high wear-resistant carbide material eye plate and cutting ring.
Lubrication system
The hydraulic oil line feeds high pressure oil into the double line distributor when changing direction. With each stroke movement of the concrete cylinder piston, each required lubrication part can get a drop of hydraulic oil from the double line distributor. It ensures the necessary lubrication of the concrete cylinder piston and each required lubrication part, extending the life of the concrete piston and other seals.
Cooling System
It adopts forced air-cooled large radiator device to ensure that the working oil temperature of the hydraulic system is controlled below 70℃, thus guaranteeing that the hydraulic system of the main machine is in normal working condition.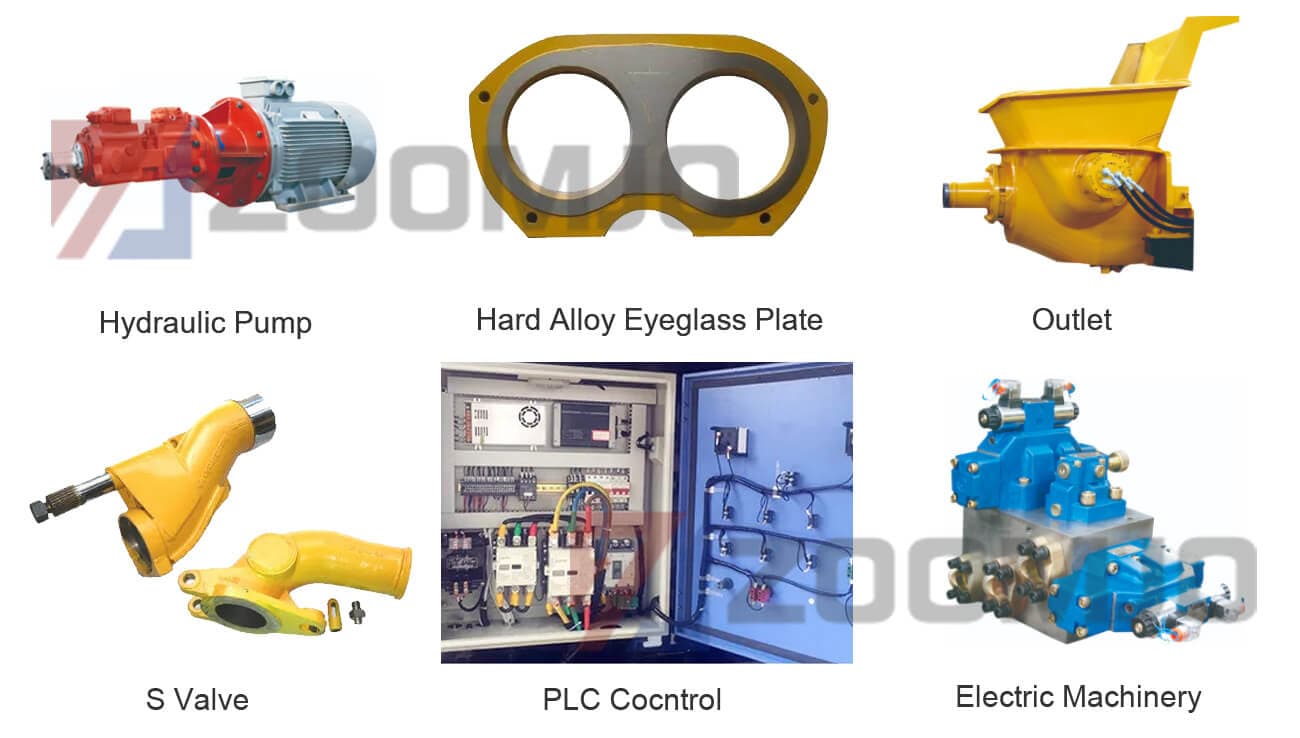 Product advantages
1. Integrated control of mixing and pumping, wireless remote control, convenient and reliable operation, saving labor
2. Double-layer door design of electric control box, good sealing, good dustproof and waterproof effect
3. S pipe valve structure, no water secretion, not easy to block the pipe, can spray mortar, can also spray fine stone concrete spraying volume continuously adjustable, to cope with different construction conditions.
4. Double-cylinder piston structure, long life, less wearing parts, low cost of use
5. Adopt double-row tires, large load, good stability, especially suitable for walking in rough roads
About whether to choose diesel or electric concrete mixing and towing pump?
It depends on your project requirements. If your project is located far from a power source, you may want to choose a diesel concrete mixer pump. If your project is located close to a power source, you can choose an electric concrete mixer pump.
ZOOMJO's diesel concrete mixer pumps are exported to Canada, UK, Australia, New Zealand, Russia, South Africa, India, Indonesia, Vietnam, Philippines and other countries and regions. The concrete mixer pumps have considerable sales volume in these countries and regions and are favored by local investors.
ZOOMJO has a professional design team and excellent technical team, as a professional concrete mixing plant manufacturer, we can provide fixed concrete mixing plant, mobile concrete mixing plant, foundationless concrete mixing plant, concrete mixing pump, concrete trailer pump, dump truck, etc.
If you have any questions or needs about concrete mixing plant, please feel free to contact us, we will be happy to serve you. You can get in touch with us by email, phone or social media. We will reply your question as soon as we receive the message.
ZBJ30C Diesel Concrete Mixers Pumps

Configuration
| | | |
| --- | --- | --- |
| Model | ZBJ30C-9-66 | ZBJ40C-10-82 |
| Max. concrete output (m3/h) | 30/23 | 40 |
| Concrete pumping pressure (MPa) | 9 | 10 |
| Outlet diameter(mm) | 100 | 150 |
| Electrical engineering power(KW) | 66 | 82 |
| Pumping system pressure(MPa) | 28 | 32 |
| Mixing system pressure(MPa) | 10 | 10 |
| Max mixing speed(r/min) | 20 | 20 |
| Capacity of oil tank(L) | 350 | 350 |
| Discharging capacity of mixer(m³) | 0.45 | 0.45 |
| Mixer productivity(m³/h) | 10-14 | 10-14 |
| The biggest transportation is away from vertically(m) | 120/400 | 150/600 |
| Max. aggregate diameter(mm) | 20 | Scree:40 |
| lnside diameter of delivering pipe(mm) | 100 | 125 |
| Dimensions:(L*W*H)(mm) | 4500x2200x2600 | 4500x2200x2600 |
| Total weight(kg) | 4800 | 5200 |
Inquiry
If you would like to contact us for more information about our products, please fill out the form below, thank you.