ZOOMJO ZY75 Mini Concrete Mixing Plant Sent To Chile

2023-05-20 18:12
With the development of the construction industry, concrete mixing plants play an indispensable role as an important infrastructure. Recently, ZOOMJO GROUP has successfully exported two compact concrete mixing plants to Chile, and will provide full technical support and after-sales service.

Both exported concrete mixing plants are ZY75 models with excellent performance and efficient production capacity. Each plant is equipped with five aggregate bins, each with a capacity of 20 cubic meters, ensuring the storage of large quantities of raw materials. In addition, each mixer has a capacity of 1.5 cubic meters, enabling efficient concrete mixing in a short period of time.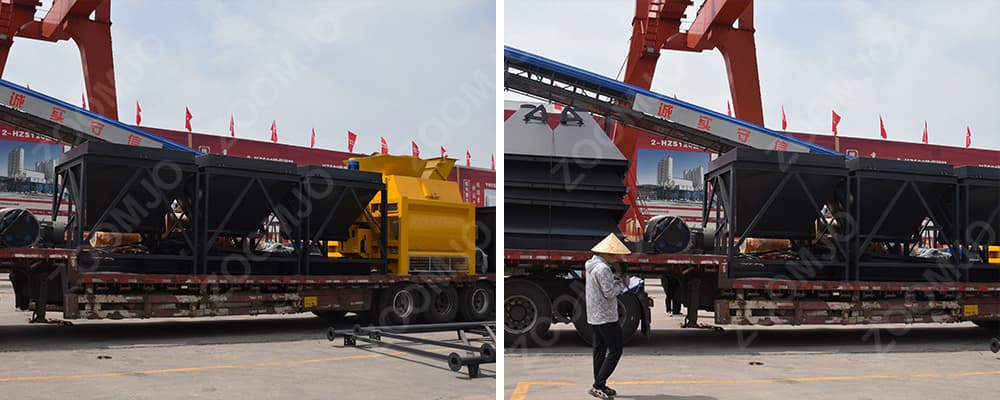 ZOOMJO GROUP is known for its excellent product quality and reliable service, and this export was no exception. In addition to providing high quality equipment, ZOOMJO GROUP is committed to providing Chilean customers with comprehensive technical support and after-sales service. Whether it is equipment installation, operation guidance or maintenance, the professional technical team will be ready to help customers to ensure the normal operation of the equipment and customer satisfaction.
For the construction industry in Chile, the introduction of these advanced concrete mixing plants will bring great benefits. The compact design makes these plants adaptable, do not take up too much space and can operate efficiently in a limited site environment. The high-capacity aggregate bins and mixers are able to meet the demands of large-scale projects, providing a stable and reliable supply of concrete.
This export further demonstrates the strength of ZOOMJO GROUP as a leading concrete equipment manufacturer. The company has been committed to technological innovation and product quality improvement, providing high-quality equipment and perfect services to customers worldwide. It has not only achieved remarkable results in the domestic market, but also won wide acclaim and recognition in the international market.
With the successful export of these two ZY75 compact concrete mixing plants, ZOOMJO GROUP has further expanded its influence in the Chilean construction industry and provided more international customers with reliable solutions. In the future, ZOOMJO GROUP will continue to adhere to the concept of innovation and quality service to continuously promote the development of the concrete industry and make greater contributions to the global construction business.