Tilting & Non-Tilting Drum Concrete Mixers For Sale

2023-08-26 15:27
Tilting and non-tilting drum concrete mixers belong to two different types of drum concrete mixers. Drum concrete mixer is a type of equipment used to prepare concrete. Drum concrete mixers are widely used in construction, roads, water conservancy, tunnels, etc. They play a key role in preparing concrete by mixing raw materials to ensure the structural stability of the project, ranging from housing construction to infrastructure development.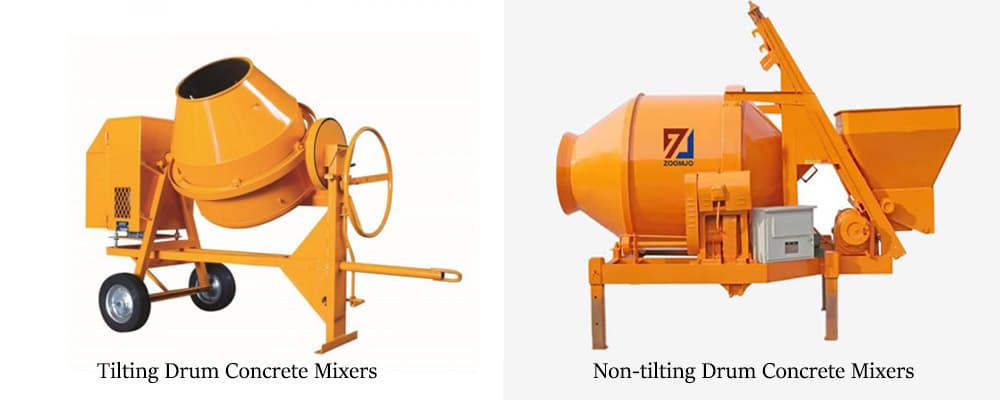 The working principle of roller concrete mixer is to make concrete by putting the raw materials of concrete, such as cement, aggregate, sand and water, into a drum, and then mixing these materials through the rotation of the drum to make concrete.
The main structure of a drum concrete mixer includes the following key parts:
1. Drum: also known as drum, is the main part of the mixer, mostly made of welded steel plate, equipped with spiral wings inside. When the drum rotates, it drives the spiral wings to mix the concrete materials.
2. driving device: used to drive the mixing drum rotation.
3. frame: the main structure to support the whole mixer.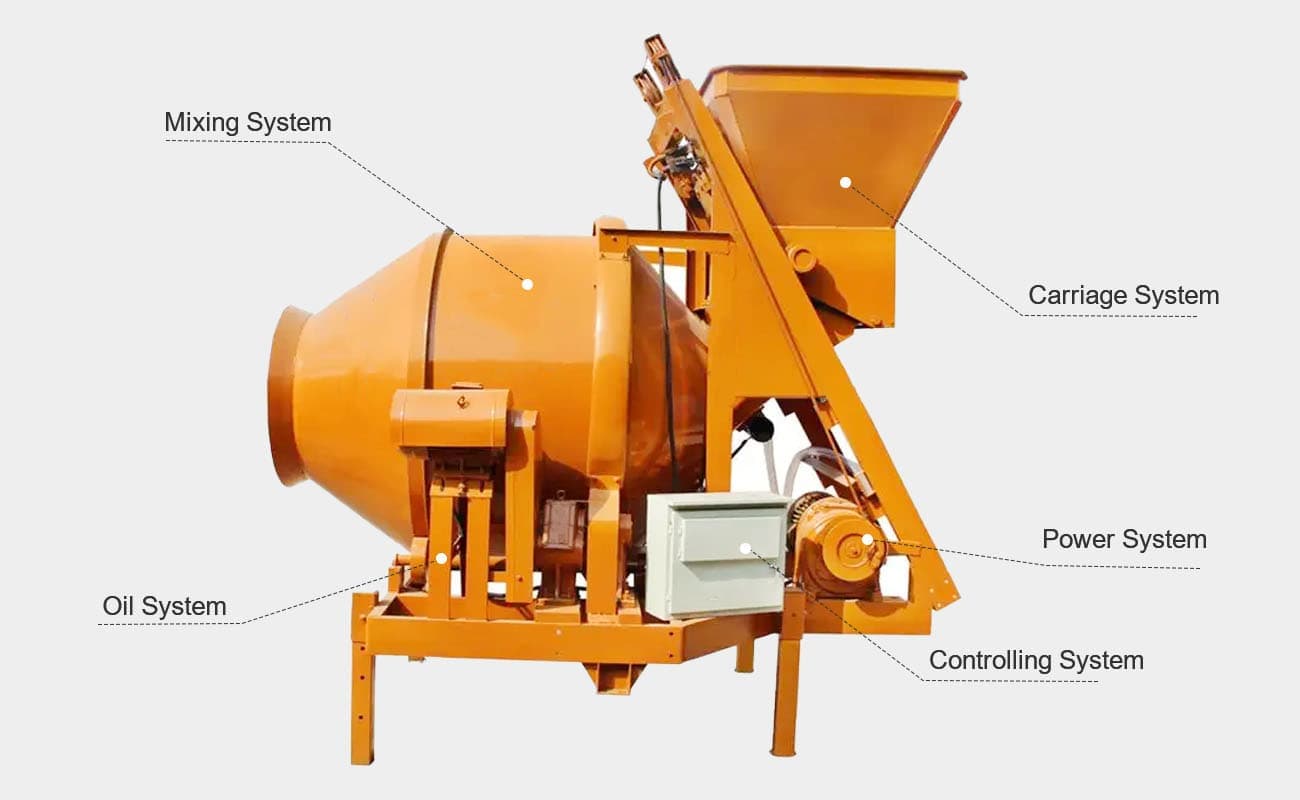 Tilting Drum Concrete Mixer
Tilting drum concrete mixer is a common type of concrete mixing equipment. It consists of a tilting-mounted cylindrical drum and a drive motor. The drum is equipped with a spiral wing, when the drum rotates, the spiral wing will turn the concrete raw materials (cement, sand, stone, etc.) to mix, so as to achieve the effect of uniform mixing.
Tilting drum mixer has simple structure, easy to use and good mixing effect. It is suitable for mixing all kinds of concrete materials, and is a commonly used mixing equipment for small-scale concrete preparation.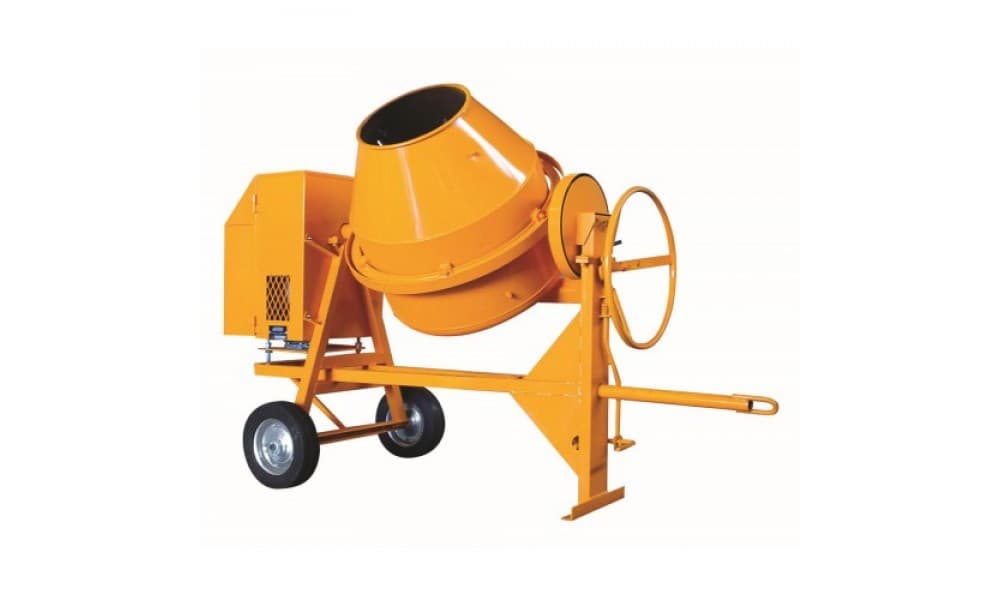 Tilting drum concrete mixer is characterized by its drum can be tilted. When discharging, the concrete can be easily dumped out of the drum by tilting the drum. This design allows the concrete to be discharged more efficiently and without much manual intervention.
Non-Tilting Drum Concrete Mixers
Non-tilting drum concrete mixers are typically used for small-scale construction projects because of their relatively small mixing capacity. The drum of a non-tilting drum concrete mixer cannot be tilted. When discharging, the operator needs to control a mechanical switch to reverse the rotation of the drum so that the concrete is discharged from the drum. Non-tilting drum mixers are suitable for projects that require smaller concrete outputs, such as small construction sites and road repairs.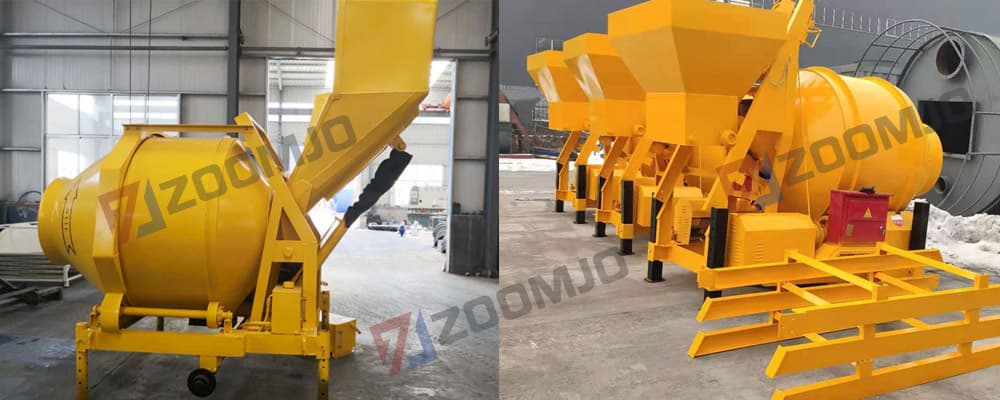 Both tilting and non-tilting drum concrete mixers are suitable for preparing various types of concrete, including plain concrete, ready-mixed concrete, and a variety of specially formulated concrete.
Tilting & Non-Tilting Drum Concrete Mixer Prices
The price of a concrete mixer is affected by a variety of factors, in addition to the type of mixing mainframe, mixing capacity and brand, there are other factors that may lead to differences in price, such as production process, additional features, quality of materials and so on. Therefore, when buying a concrete mixer, in addition to focusing on the price, you also need to consider the following points:
Quality and performance: inexpensive mixers may have problems in quality and performance, resulting in short service life, poor mixing results, etc.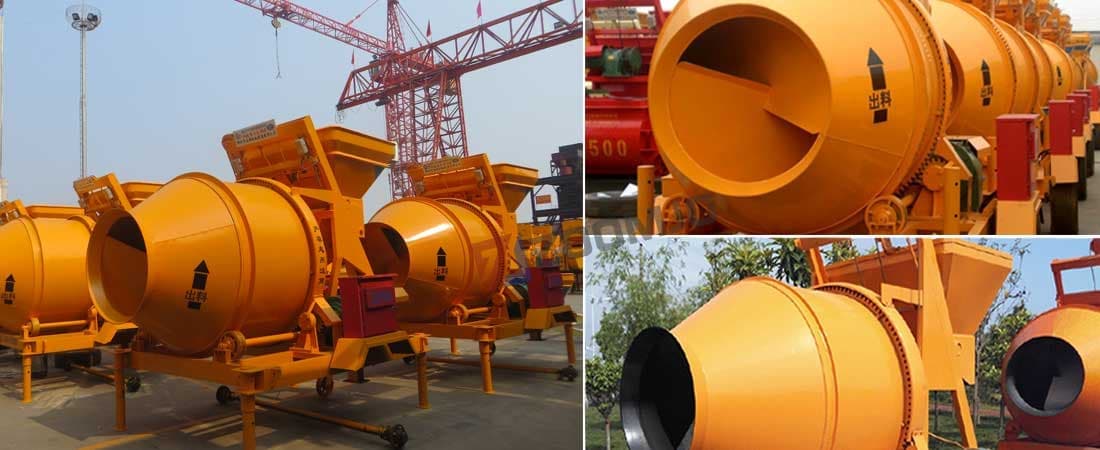 Brand reputation: some famous brands have good reputation in the market and product quality is guaranteed.
Additional features: some mixers may be equipped with additional features, such as automation control systems, metering systems, etc., these features may increase the price of the product.After-sales service: after-sales service after purchasing the equipment is also one of the considerations.
Applicable scenarios: Different scenarios have different requirements for concrete mixers and may require different types or capacities of equipment.
The price of tilting and non-tilting drum concrete mixers usually ranges from a few hundred dollars to a few thousand dollars. When purchasing a concrete mixer, you need to consider all of these factors in addition to the price to choose the best product for your needs.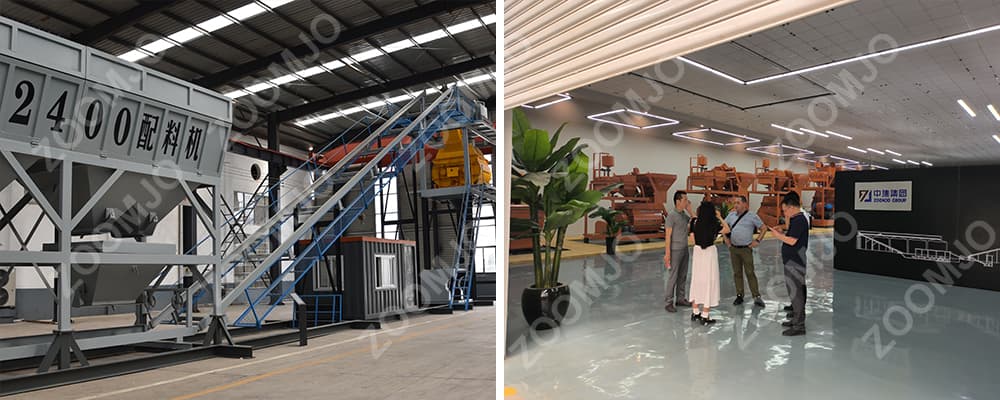 Tilting & Non-tilting drum concrete mixer suppliers
ZOOMJO, as a professional concrete equipment manufacturer, has rich experience and reputation in the field of concrete mixing. We can supply stationary concrete mixing plant, mobile concrete mixing plant, foundationless concrete mixing plant, concrete mixing pump, concrete tractor pump, drum concrete mixer, diesel & electric concrete mixer and so on. Our products have been delivered to more than 105 countries and regions, such as Philippines, Indonesia, Malaysia, Singapore, Sri Lanka, Kazakhstan, Uzbekistan, Russia, Ukraine, Ethiopia, South Africa, Nigeria, Jamaica, Dominica, Australia, and so on.