Diesel Concrete Mixer For Sale With Good Price

2023-11-01 15:40
The diesel concrete mixer is an important piece of construction equipment usually used for concrete mixing and production. Its working principle is based on the design of a double cone concrete mixer, where the drum can rotate clockwise for mixing and counterclockwise for discharging. This type of machine is usually used in construction projects, especially road and bridge construction, to ensure the quality and reliability of concrete.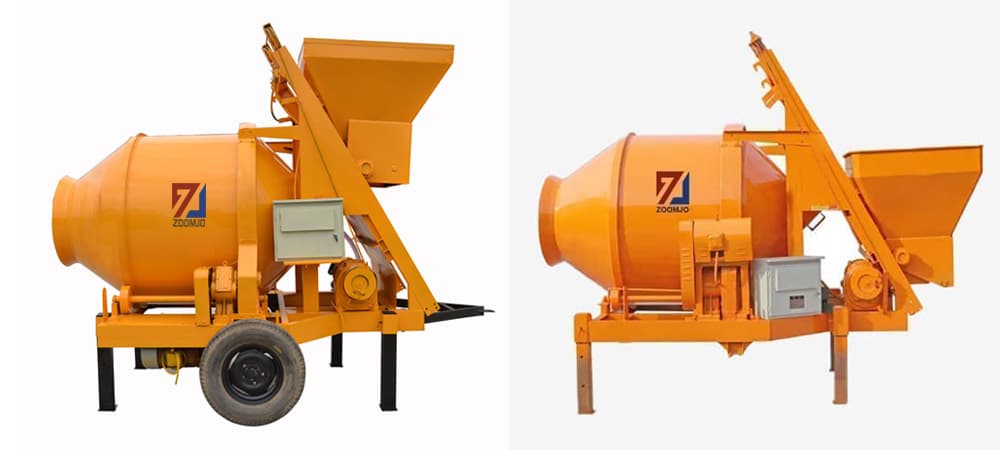 A diesel concrete mixer has some distinct advantages over an electric mixer. One of the most significant advantages is that it utilizes a diesel engine as its power source rather than relying on an electric supply. This means that it can work smoothly in areas where there is a lack of electricity supply, such as remote areas or construction sites. Diesel engines also perform well in harsh conditions, making diesel concrete mixers popular in some mountainous areas and towns where electricity is lacking.
Benefits of using diesel concrete mixers
Using a diesel concrete mixer brings multiple benefits including:
1. easy to operate and maintain, saving labor and money for construction projects.
2. High quality concrete mixing results and high work efficiency.
3. freedom from power supply constraints and ability to work in remote areas.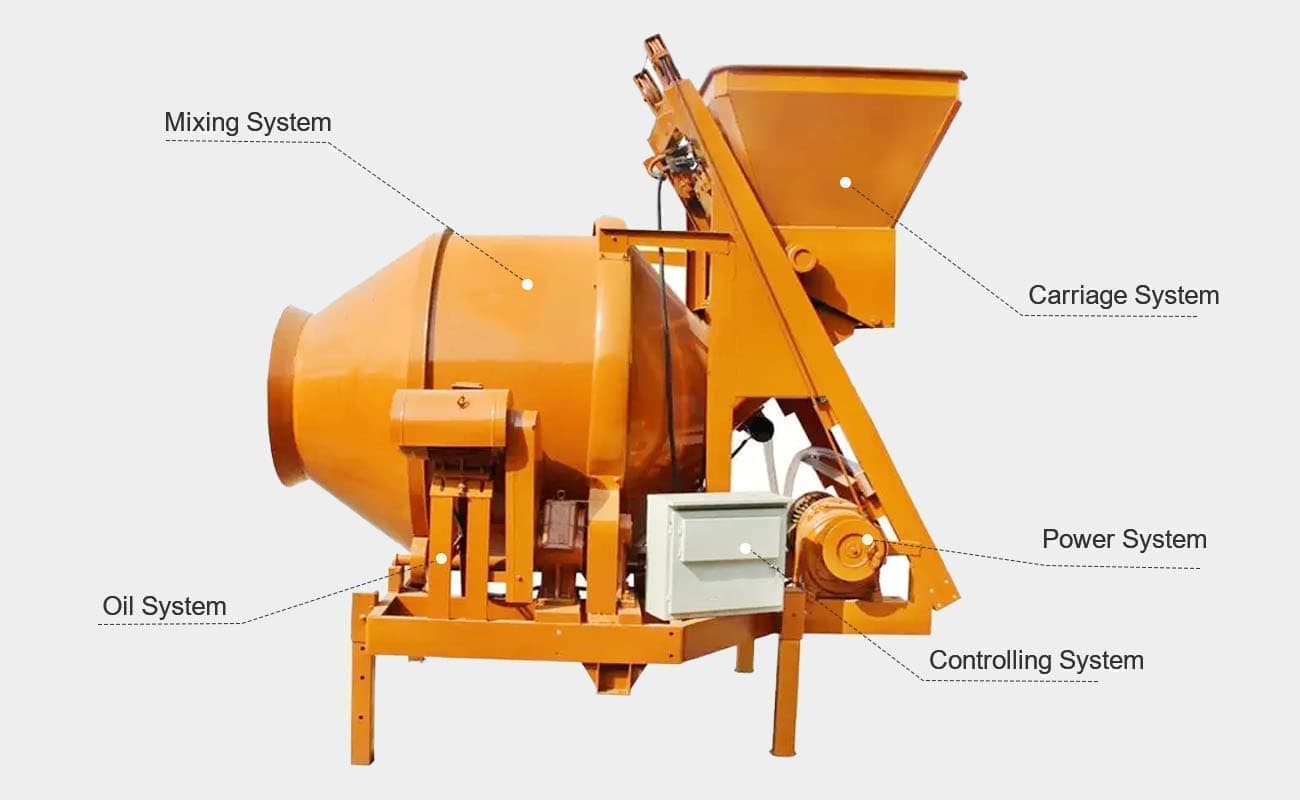 ZOOMJO is a company specializing in the manufacture of diesel concrete mixers, and its products include several models and capacities of machines, such as JZR350, JZR450 and JZR500, with the numbers representing their basic discharging capacity. This diversity allows customers to choose the machine that best suits their needs. Furthermore, ZOOMJO's diesel concrete mixers are mobile, facilitating easy movement between construction sites.
Detailed Specifications of Diesel Concrete Mixers
| | | |
| --- | --- | --- |
| Model | Capacity(m3/h) | Power(KW) |
| JZR500 Diesel Concrete Mixer | 20-25 | 22 |
| JZR450 Diesel Concrete Mixer | 18-22 | 22 |
| JZR350 Diesel Concrete Mixer | 10-15 | 16 |
In addition, ZOOMJO's diesel concrete mixers utilize different lifting methods, such as wire rope lifting and hydraulic system lifting, to meet the different preferences and requirements of customers. This diversity allows customers to choose the right model and configuration for their specific project needs.
ZOOMJO's diesel concrete mixers have the following features:
1. equipped with diesel engine, suitable for areas with lack of electricity.
2. reasonable structure, high reliability, high productivity and uniform concrete mixing.
3. easy to move between construction sites.
4. Stable performance, easy operation and low energy consumption.
ZOOMJO provides excellent after-sales service, including one-year warranty, installation and commissioning support, operator training, sufficient stock of spare parts, and professional after-sales team. These services ensure that customers receive comprehensive support and assistance when purchasing and using diesel concrete mixers.
Diesel Concrete Mixer Case
ZOOMJO's concrete mixers are exported to countries in Southeast Asia, Africa and South Africa to support the extensive construction needs of these regions. From Indonesia to Nigeria, our equipment plays a vital role in road, bridge, housing and infrastructure projects. Whether in remote areas, urban construction, road works or water projects, ZOOMJO's diesel concrete mixers have proven to be an efficient and reliable piece of engineering equipment that helps to improve construction efficiency and save time and resources.
Precautions for diesel concrete mixer
When using diesel concrete mixer, you need to pay attention to the following points:
1. Check whether there is enough oil in the diesel tank.
2. clean the diesel tank regularly, replace the diesel fuel in time, and check whether the wire connection is loose.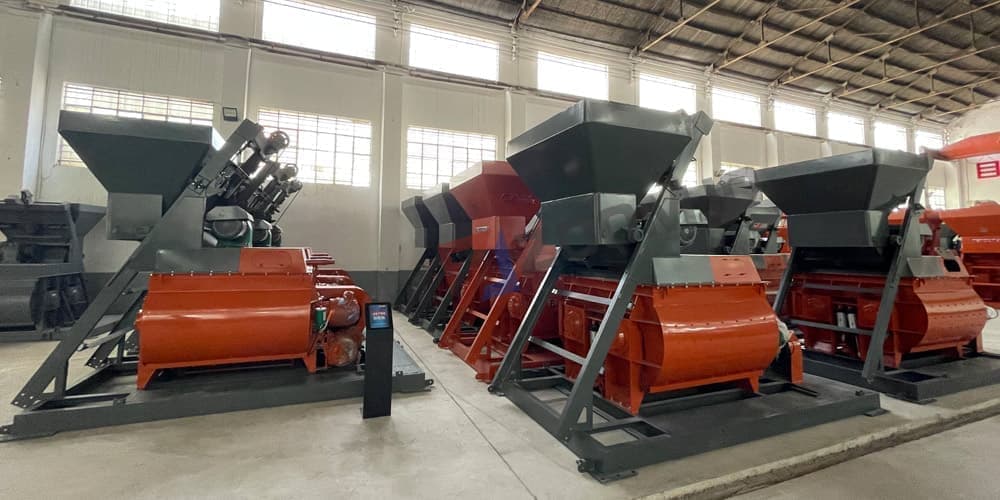 3. check whether the screws of the diesel tank are loose, whether the welding is firm, and make timely maintenance.
4. Operators are not allowed to put their hands, heads or tools into the mixing drum when the concrete mixer is working.
5. The diesel engine will be hot, it should be placed in a ventilated place and avoid contact to avoid burns.
6. After working, clean the inside of the mixing drum in time and check whether the diesel oil tank cover is well covered to prevent water from entering the diesel oil tank and affecting its use.
7. Users should keep the diesel tank clean, and often carry out the work of rust and anticorrosion.

Diesel Concrete Mixer is an ideal choice for working in areas with power shortage, which has excellent performance and reliability.ZOOMJO, as a professional manufacturer and supplier, is worthy of customers' trust in terms of quality, price and service. If you are in need of a diesel concrete mixer, why not contact ZOOMJO who will provide you with a customized solution to support your construction project. Regardless of the availability of electricity, a diesel concrete mixer will be a smart choice for you.
ZOOMJO's self-loading diesel concrete mixer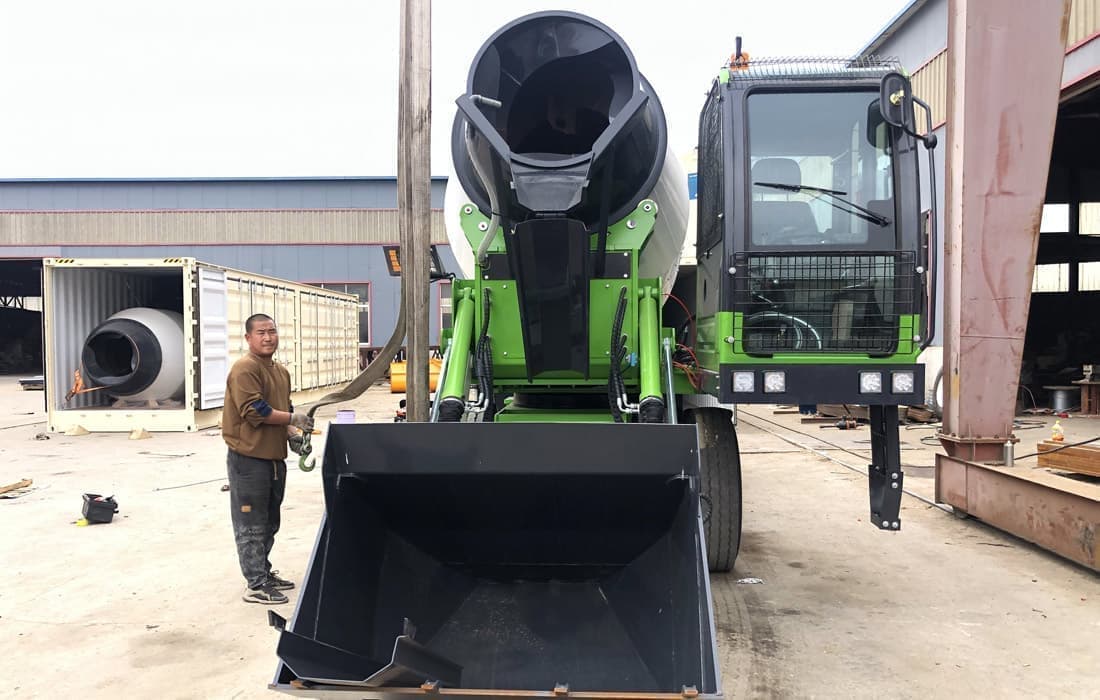 The self-loading diesel concrete mixer is an efficient and convenient construction equipment. Its working principle is basically similar to that of a traditional concrete mixer, but it features the integration of self-loading and mixing. This means that it can transport the concrete to the desired location while mixing it, thus eliminating the extra step of transporting the concrete. If you are in the construction industry, you may want to consider using a self-loading diesel concrete mixer to increase your competitiveness and productivity.