Advantages Of Self-Loading Concrete Mixers

2023-05-06 15:04
Self-loading concrete mixer is a kind of vehicle widely used in the construction of houses, roads, bridges, tunnels and other infrastructures. its advantage is that it can mix and transport concrete on site, thus saving time and labor costs. ZOOMJO is a professional manufacturer of self-loading concrete mixers with more than 20 years of history and its products are sold in more than 100 countries.
The self-loading concrete mixer produced by ZOOMJO has several advantages. First of all, it is equipped with steel wire vacuum tires, which are robust and wear-resistant, with a high grip and a life expectancy of 30,000 km. With wheel side reduction, double brake caliper axle, good braking performance, large ground clearance and strong passing performance, it can be applied to various complicated working conditions. Secondly, it adopts loader chassis, with low chassis, low center of gravity and strong stability, which is suitable for various complex working conditions. It also adopts Yuchai or Weichai and other famous brand mechanical supercharged engines, four-wheel drive, full load climbing 30°, with strong climbing ability.

ZOOMJO self-loading concrete mixer also has other advantages. For example, its mixing drum can rotate 270° synchronously with the cab, with a wide view and all-round paving. It is also equipped with a luxurious air-conditioned cab for comfort, an anti-rollover seat, a reversing camera and high safety performance. In addition, it adopts fully sealed worm wheel type hydraulic slewing bearing with ductile iron process, 6 teeth bite, 5 years warranty and low failure rate. The hydraulic motor adopts Sonny brand, imported from the United States, durable. It also has its own water tank, automatic measurement of water, accurate proportioning and good quality of concrete. The manganese steel barrel has large capacity, wear-resisting, with hopper vibrator, clean discharge without sticking to the barrel. The barrel adopts robot welding, the welding seam is even and full, the blade adopts high wear-resistant material, triple spiral, and even mixing.
In addition to the superior performance and high quality of self-loading concrete mixers, ZOOMJO is also known for its excellent after-sales service and technical support. The company has set up a special after-sales service department to provide 24/7 after-sales service. No matter when or where you have a problem, you can call the hotline provided by the company and get a prompt solution.
ZOOMJO self-loading concrete mixers have been widely used in many countries and regions around the world, including Asia, Africa, Europe, South America, etc.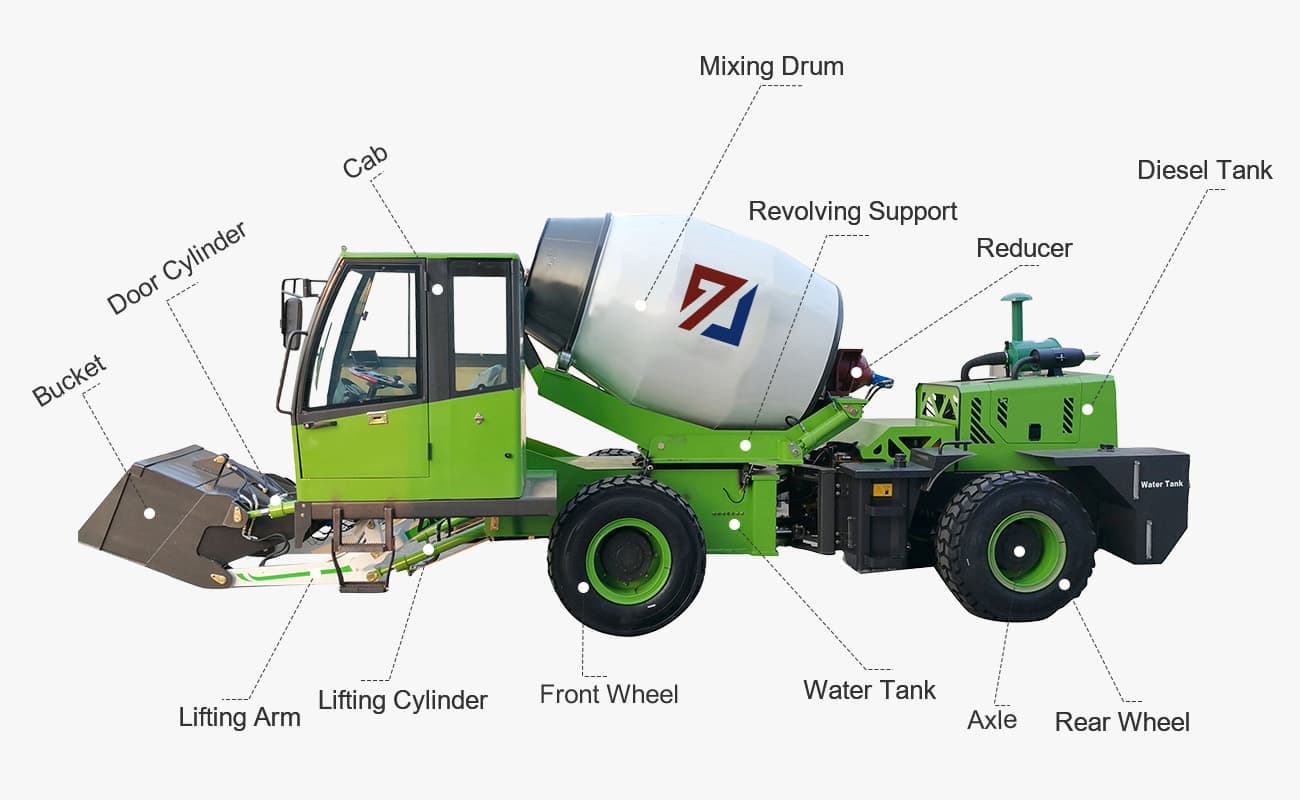 Infrastructure construction projects in the Philippines. For the construction of roads and bridges, the contractor chose ZOOMJO self-loading concrete mixers for the production and transportation of concrete. During the construction of this project, ZOOMJO provided the customer with a full range of after-sales service and technical support, which ensured the smooth progress of the project.
The Peruvian construction developer, in order to increase efficiency on the site, chose ZOOMJO self-loading concrete mixers as its main tool. After a long time of use, the company was very satisfied with the quality and performance of ZOOMJO self-loading concrete mixers and established a long-term cooperation with ZOOMJO.
The Kenyan customer is engaged in mining and processing of mineral resources and needs to do a lot of material mixing. When looking for a suitable concrete mixer in the market, the company chose ZOOMJO self-loading concrete mixers. After a period of use, the company found the ZOOMJO self-loading concrete mixer to be excellent, meeting their work requirements and greatly improving production efficiency.