Js750 Twin-Shaft Concrete Mixer & Zbt Concrete Trailer Pump In Small Construction

2023-04-13 11:48
The JS750 twin-shaft concrete mixer with a discharge height of 2.5 meters, paired with a ZBT diesel concrete trailer pump, is a combination of equipment that performs very well on small construction projects.

Our customer is from Guinea, West Africa and their projects often require the delivery of stone concrete over 40mm in diameter. Our ZBT series concrete trailer pumps can convey concrete with aggregate sizes of 4cm-5cm and below, with a displacement range of 24m³/h to 100m³/h, perfectly matching the customer's needs.
JS750 twin shaft concrete mixer is a common construction equipment driven by two mutually rotating shafts that can quickly mix materials such as cement, sand, stone and water to make concrete. This equipment has many advantages, such as high mixing efficiency, uniform mixing, short mixing time, low noise, etc. It is widely used in various construction projects.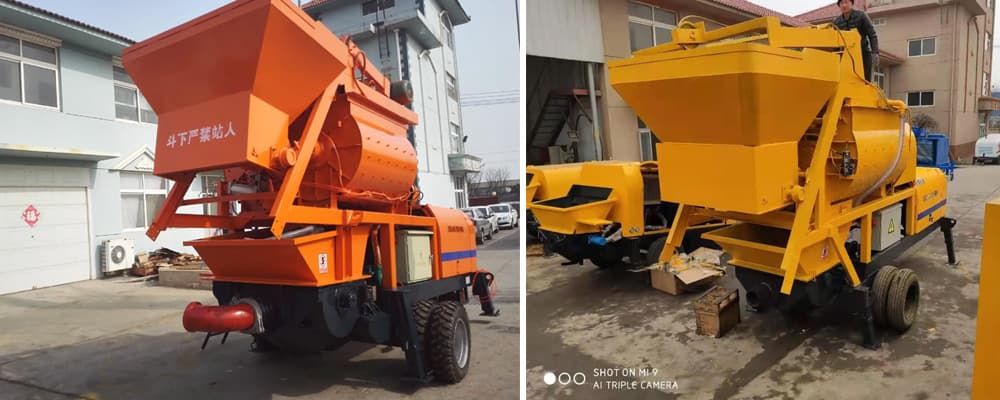 Trailer concrete pump is a commonly used concrete conveying equipment, which conveys concrete from the mixer to the construction site through pumping operation and completes the concrete pouring work quickly and efficiently. Compared with the traditional manual pouring, the towed concrete pump is easy to operate, pumping distance is far, pumping height is high, and pumping efficiency is high, which can greatly improve the working efficiency and construction quality.
This combination of concrete mixer and pump is very common in construction projects because they can deliver concrete to the required location quickly and efficiently. They are widely used in construction, bridge construction, water conservancy, road construction, tunneling, etc.
ZOOMJO's product line covers a wide range of concrete mixing equipment, concrete conveying equipment, concrete mixing plants and accessories. Our high quality products and professional services have won the trust and praise of our global customers, and our equipment has been exported to many countries and regions, becoming an important supplier in the international market.