Self-Loading Concrete Mixer for sale in Manila, Philippines

2023-06-21 16:31
The ZC-2.6 self-loading concrete mixer is an efficient construction equipment with a discharge capacity of 2.6 cubic meters at a time. The mixer is capable of completing 4 batches per hour, resulting in a concrete output of approximately 14.4 cubic meters per hour. This self-loading mixer is highly sought after in the Philippine market and we recently exported a ZC-2.6 concrete mixer to Manila, Philippines.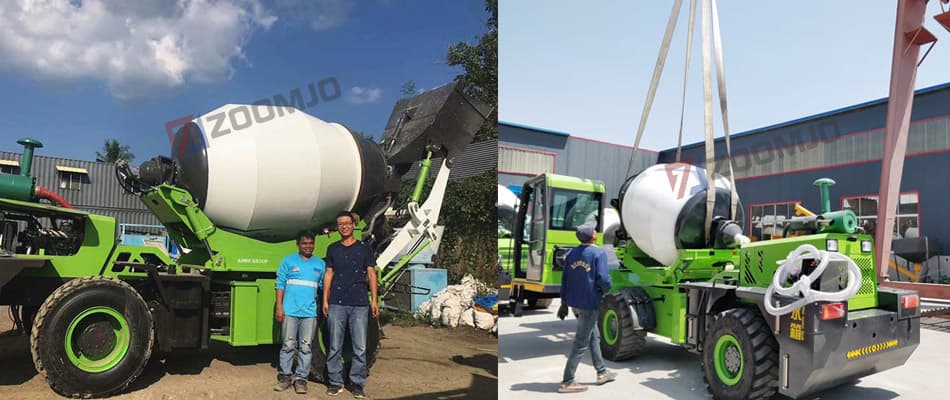 The ZC-2.6 mixer truck has a range of individual design features that allow it to excel in working environments where height, width and length are limited. Its narrow body, short wheelbase and small turning radius allow it to operate flexibly in tight construction sites. The mixing tank can rotate within a 270° range and requires only one operator to complete the discharge operation.
As an experienced manufacturer of self-unloading concrete mixers, ZOOMJO has designed this range of mobile concrete mixers to meet the needs of different projects. The mixer is equipped with important components from well-known brands, including diesel engines, hydraulic oil pumps and motors, valves, seals and hoses. It is not only easy to operate but also cost effective to produce and supply fresh concrete for a wide range of projects such as foundations, pouring foundations, floors, sidewalks, driveways, curbs, patios and swimming pools in mining, industrial complexes, shopping plazas, office buildings, warehouses and residential buildings.
The ZC-2.6 mixer's flexibility and high productivity allow it to adapt to the needs of all types of construction projects in the Philippines. Whether in busy urban areas or remote rural areas, the ZC-2.6 mixer is capable of efficiently mixing concrete.
By introducing the ZC-2.6 mixer to the Philippine market, ZOOMJO is not only providing advanced construction equipment to the Philippine construction industry, but also opening up new markets. the superior performance and reliability of the ZC-2.6 mixer will help Philippine construction companies to increase efficiency, reduce construction time and contribute to stronger and more durable buildings.