ZBJ40C Concrete Mixer Pumps Sold to Nigeria

2023-05-24 09:22
ZBJ40C concrete mixer pump is an efficient construction equipment which has been successfully sold to Nigeria recently. This diesel concrete mixer trailer pump is widely applicable in the construction environment and is especially suitable for projects such as filling of secondary structural columns and pouring of columns. It also performs well in projects such as railroad road tunnels, water diversion tunnels, culverts, mine tunnels and bridge tunnels. In addition, it can also play an important role in water conservancy projects, hydropower projects, slope support, underground construction projects, foundation filling projects and structural column pouring of large buildings.

ZBJ series concrete mixer pump is capable of conveying concrete with aggregate grain size of 5cm and below, and the displacement range is from 40m³/h to 100m³/h. It is suitable for concrete or mortar conveying in civil engineering, transportation, railroad, water conservancy, electric power and national defense projects. the vertical conveying distance of ZBJ40C concrete mixer pump is 120m and the horizontal conveying distance is 500m.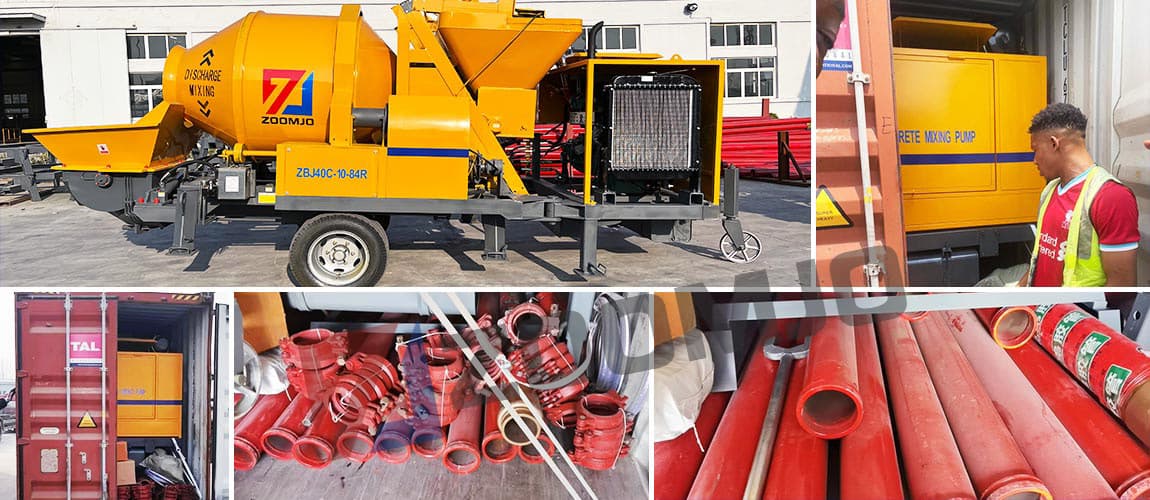 The design of the diesel-engine concrete mixer pump combines the traditional concrete pump and mixer into one, simplifying the operating structure and enabling the operator to obtain high-quality concrete quickly. This equipment has the advantages of low power, small size, easy movement and low cost. With the continuous development of the construction industry, there is a growing demand for efficient and convenient construction equipment, and the diesel-engine concrete mixer pump is the ideal choice born in response to this demand.
In addition to ZBJ40C concrete mixer pump, ZOOMJO also provides many other models of concrete mixer pump equipment such as electric concrete mixer pump. As a professional concrete mixer pump manufacturer, ZOOMJO is committed to providing high-quality products and excellent services. Whether it is concrete mixer, concrete trailer pump or concrete mixer pump, ZOOMJO can meet the needs of customers. The company has advanced production process and strict quality control system to ensure the reliability and performance stability of the products. In addition, ZOOMJO also offers the production and sales of concrete mixing plants and other equipment, providing customers with a full range of solutions.
Nigeria, as one of the important construction markets in Africa, has a growing demand for high-quality construction equipment, and ZOOMJO has successfully introduced the ZBJ40C concrete mixing pump into this market, which not only meets the local construction needs, but also improves the construction efficiency and quality. ZOOMJO's products have not only won good reputation in the domestic market, but also been recognized and trusted by the international market.