ZJY35 Mobile Mixing Plant Sent To Saudi Arabia

2023-05-24 11:32
Recently, ZOOMJO's ZJY35 mobile concrete mixing plant was successfully delivered to Saudi Arabia, further expanding our presence in the Middle East. This partnership is a testament to our commitment to innovation, quality and customer satisfaction. We will continue to strive for excellence and provide reliable and efficient concrete production solutions to our customers worldwide,

ZJY35 concrete mixing plant is a new type of concrete mixing equipment developed by our company based on the advantages of similar mixing plants at home and abroad.ZJY series cement concrete mixing plant has the characteristics of small footprint, simple foundation, quick transportation, easy relocation and low energy consumption.
The concrete mixing plant shipped to Saudi Arabia is a small concrete mixing plant equipped with 100 tons cement silo, JS750 concrete mixer, control system and PLD concrete aggregate silo, with a production capacity of 35 m³/h. It has two wheels for easy movement and relocation, and can carry out operations quickly at the construction site.
This portable concrete mixing plant integrates raw material storage, weighing, conveying, mixing, discharging and fully automatic control system in one. It is able to produce and supply concrete on site at the construction site, thus eliminating transportation time and costs.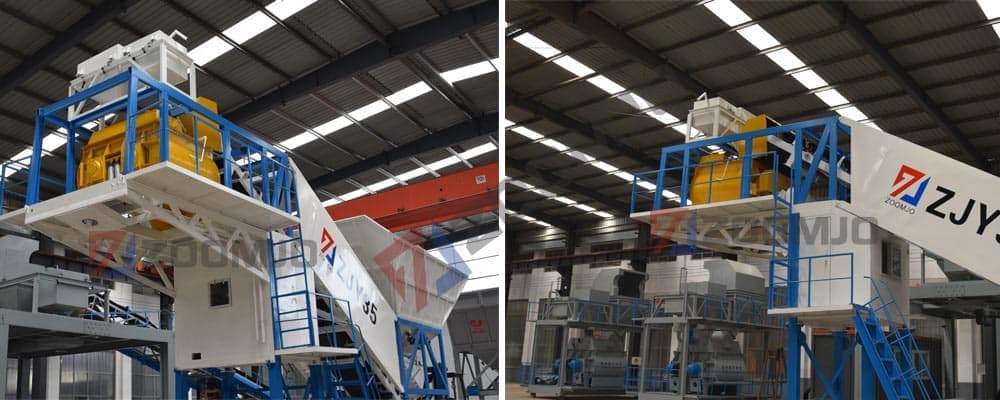 ZOOMJO is a professional concrete mixing plant manufacturer offering large, medium and small concrete mixing plants, including mobile, stationary and foundationless, as well as belt and hopper type concrete mixing plants. Our products have been shipped to 105 countries and regions, including Philippines, Indonesia, Malaysia, Singapore, Sri Lanka, Kazakhstan, Uzbekistan, Russia, Ukraine, Ethiopia, South Africa, Nigeria, Jamaica, Dominica, Australia, etc.
Our company is committed to providing high quality concrete mixing plant and excellent customer service. We have a strong R&D team to continuously improve the performance of our products to meet the changing needs of the industry. Our production facilities are equipped with advanced technology and strict quality control measures to ensure that each concrete mixing plant meets the highest standards.
In addition to the ZJY35 model, we offer a wide range of concrete mixing plants to meet a variety of project requirements. Whether it is a large infrastructure project or a small construction site, our diverse product lineup can meet different production capacities and site conditions.
We provide comprehensive after-sales service, including installation guidance, operation training and technical support. Our goal is to build long-term partnerships with our customers to assist them in achieving efficient and sustainable concrete production.
If you have questions or needs about concrete mixing plants, we are happy to help and answer them, and we have professional engineers ready to configure solutions and technical guidance for you. As a professional concrete mixing plant manufacturer, we have the experience and wide selection of products to provide customized solutions to meet your specific requirements.