ZOOMJO Diesel Concrete Mixer Pumps for Sale in Lima, Peru

2023-06-12 11:57
On June 12, 2023, one of ZOOMJO's diesel concrete mixer pumps (ZBJ40C) was loaded into a 40-foot high container for shipment to Lima, Peru. This mixer pump will be used for concrete mixing and conveying work for housing construction, providing critical equipment to support local construction projects.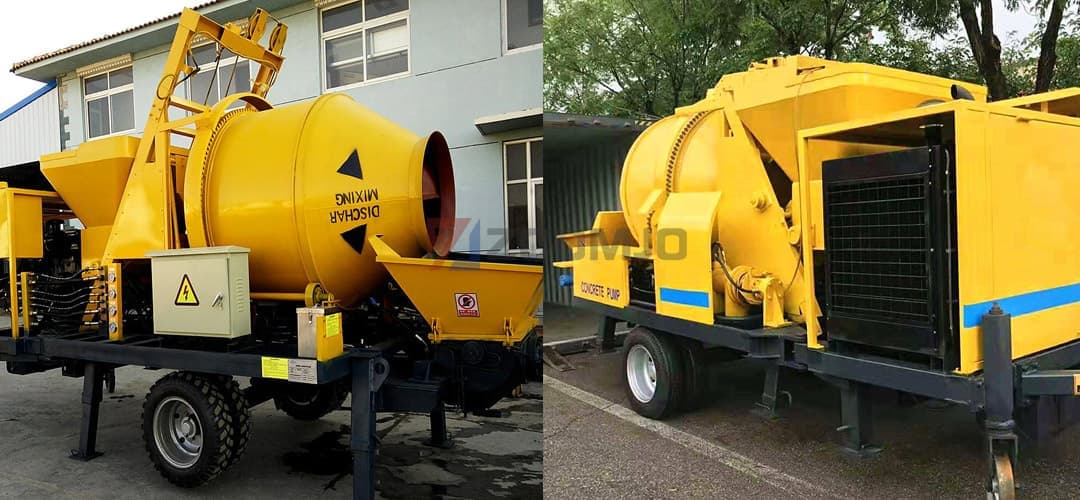 The ZBJ40C diesel concrete mixer pump combines mixing and pumping in one unit, providing customers with the convenience of mixing materials on site and delivering ready-mixed concrete directly. This design greatly improves work efficiency and makes the concrete construction process smoother.ZOOMJO's concrete mixers are equipped with main oil pumps imported from Kawasaki in Korea, main and oscillating cylinders from Hunan Synergy, Manuli oil pipes imported from Italy, hydraulic control valves from Taiwan Yucai, and intermediate relays from Omron in Japan. These high-quality parts guarantee the durability and reliability of the equipment, making it an indispensable tool in the construction industry.
Diesel concrete mixing and dragging pump is widely used in various construction environments, especially in secondary structure column filling and column pouring, etc. It performs well. It plays an important role in projects such as railroad highway tunnels, water diversion tunnels, culverts, mine tunnels and bridge tunnels. In addition, it can be used in various scenarios such as water conservancy projects, hydropower projects, slope support, underground construction projects, foundation filling projects and structural column pouring of large buildings, etc. The ZBJ series concrete mixing pump truck is capable of conveying concrete with aggregate grain size of 4cm and below, and its discharge capacity ranges from 40m³/h to 100m³/h, with concrete output of 30 to 40 cubic meters per hour. Therefore, it is very suitable for the concrete or mortar conveying needs in civil construction, transportation, railroad, water conservancy, electric power and defense projects.
Besides diesel mixer pumps, there are also electric mixer pumps available to meet different ranges of use. Diesel mixer pumps are suitable for those who do not have electricity supply or need to work outdoors, while electric mixer pumps are suitable for those who have stable electricity supply. These two types of mixer pumps offer users more options to make the best decisions based on project needs.
As the construction industry grows, the need for efficient and reliable concrete mixing and conveying equipment is increasing, and ZOOMJO's diesel concrete mixer pumps are the equipment of choice for many construction projects due to their superior performance and reliable quality. It not only improves efficiency, but also ensures quality and on-time delivery of concrete construction. Whether in urban or remote areas, this mixer pump has demonstrated its indispensable role in the construction industry.