Electric Concrete Mixer Pump Used In Road Construction In Indonesia

2023-06-21 11:45
Electric concrete mixer pump is a drum mixer and transfer pump in one, which has the characteristics of high efficiency and convenience.ZOOMJO's electric concrete mixer pump has achieved success in the Indonesian market with its excellent performance and wide range of applications, and has been highly appreciated and welcomed by users.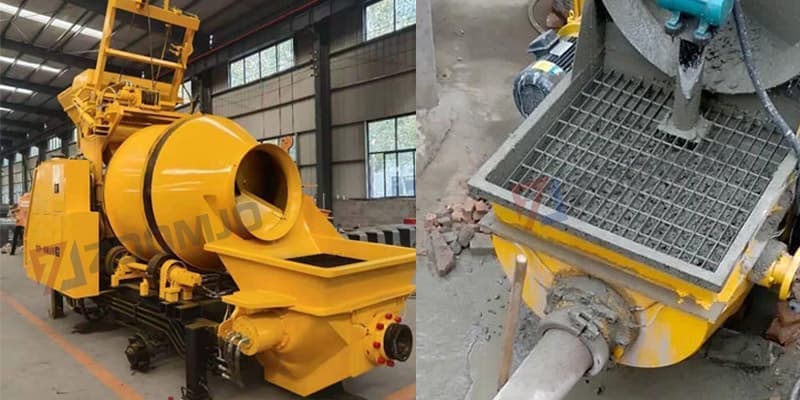 Concrete is an essential material in construction projects. However, the traditional concrete preparation process is labor-intensive, time-consuming and inefficient. To solve this problem, ZOOMJO has introduced an electric concrete mixer pump, which uses an electric engine as the power source to realize the integration of mixing and conveying functions. It can convey not only large aggregate concrete, but also fine concrete or mortar, making it very suitable for applications where the volume of work is small but frequent transitions are required.
ZOOMJO's electric concrete mixer pumps are popular in foreign power supporting developed countries and regions. For example, in the Indonesian market, ZOOMJO's ZBJ series concrete mixer pumps are highly popular. These mixer pump trucks can convey concrete with aggregate particle size of 4cm and below, with a displacement range from 40m³/h to 100m³/h, and are suitable for concrete or mortar conveying in civil engineering, transportation, railroad, water conservancy, electric power and defense projects.
ZOOMJO's electric concrete mixer pump brings great benefits compared to traditional concrete preparation methods. A small shovel and a diesel concrete mixer pump, for example, can replace the workload of five or six people and work several times more efficiently. By using a forklift to send materials such as sand, gravel and cement to the mixer trailer pump, and operating the mixer trailer pump to load the materials by remote control, you can easily finish mixing the concrete and pouring it to the designated construction site by the pump, which is easy and convenient to operate and saves labor greatly.
ZOOMJO, as a professional concrete mixing equipment manufacturer, has a professional design team and an excellent technical team. Besides electric concrete mixer pumps, ZOOMJO can also provide customers with a wide range of other equipment, such as stationary concrete mixing plants, mobile concrete mixing plants, foundationless concrete mixing plants, concrete trailer pumps and self-loading concrete mixer trucks. These equipments are designed to improve the construction efficiency and quality and meet the different needs of customers.