ZOOMJO Diesel Concrete Mixer Pump For House Construction In East Timor

2023-06-20 11:38
ZOOMJO's concrete mixer pump has been shipped to Dili, Timor-Leste, for house construction and road construction. The mixer pump is diesel driven and can produce 40 cubic meters of concrete per hour and is capable of pumping concrete horizontally up to a distance of 500 meters and vertically up to 120 meters. The concrete mixer pump is made of wear-resistant alloy material, and the mixer is sturdy and durable with long service life. It is designed with double-row tires for excellent load-bearing capacity and stability, making it ideal for driving on rough roads.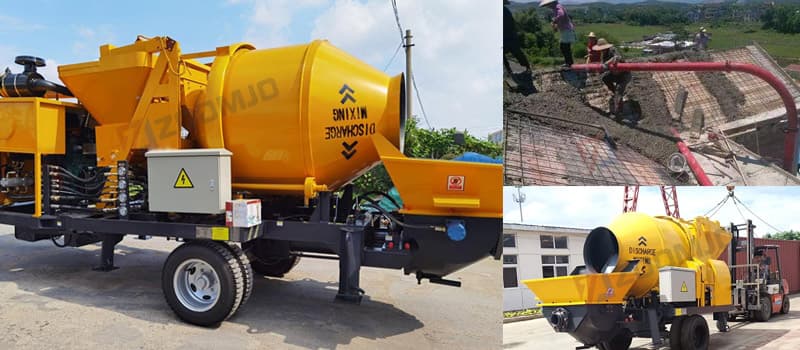 ZOOMJO's concrete mixer pump can choose diesel or electric motor drive, continuous mixing by high pressure hydraulic system, and conveying concrete through pipeline. Concrete mixer pumps are widely used in various construction projects, roads, bridges, tunnels, water conservancy and power and other large scale projects.
Diesel concrete mixer pump adopts diesel engine as the power to integrate mixer and transfer pump together, which can transfer large concrete particles and also fine concrete or mortar, especially suitable for the occasions where the project scale is small but needs frequent transfer. This series of products is particularly popular in countries and regions where electric power support is not well developed.
ZOOMJO's mixer pumps have the following advantages:
1. integrated control of mixing and pumping, convenient and reliable operation by wireless remote control, saving labor cost.
2. the electric control box adopts double-door design, with good sealing and good dustproof and waterproof effect.
3. Adopt S-type pipe valve structure, no water leakage, not easy to block, can spray both mortar and fine stone concrete. The spraying volume can be continuously adjusted to adapt to different construction working conditions and easy to operate.
4. double-cylinder piston structure, long life, less wearing parts, low cost of use.
5. Adopt double-row tire design, with large load capacity and good stability, very suitable for driving on rugged roads.