Concrete Mixing Pump Price Influence Factors Analysis

2023-04-14 11:53
Concrete mixer pump is an indispensable kind of construction equipment, and consumers often pay attention to the price as an important indicator when purchasing. However, in the market, there are huge differences in the prices of different models of concrete mixer pumps, making it difficult for consumers to choose the right product for them. Therefore, this article aims to analyze the market price and model differences of concrete mixer pump prices.
The price of concrete mixer pump is mainly determined by the following factors:
Concrete output per hour:
Generally speaking, the price of concrete mixing pump is directly proportional to its hourly concrete output. The high-end mixing pump truck mixes a larger amount of concrete per hour, while the low-end is relatively small, so the more efficient mixing and conveying machine equipment is relatively more expensive.
Power source:
Diesel concrete mixer pumps and electric concrete mixer pumps usually have different prices. Diesel concrete mixer pumps are more expensive, mainly because of their high engine and fuel system costs, while electric concrete mixer pumps are relatively less expensive and have lower maintenance costs.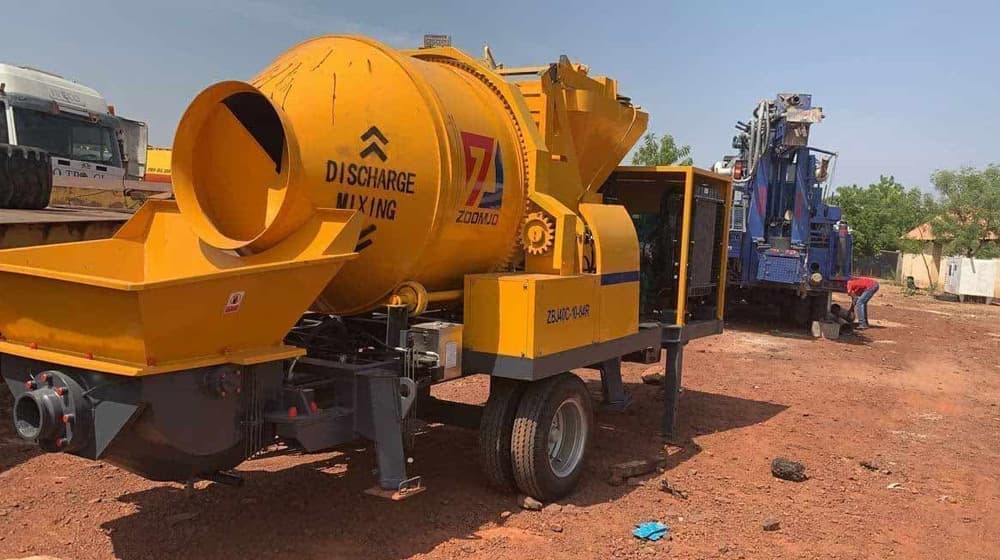 Engine brand, model and power:
The brand, model and power of the engine will affect the price of the mixing pump. High-end brands of mixer pumps usually use imported engines, and the price is relatively high. The higher the engine power, the higher the price.
Brand differences:
Different producers have different production processes and concrete pump truck quality, resulting in price differences. Large producers have higher prices compared to small and medium-sized enterprises, but the service measures are also more complete. However, some small and medium-sized enterprises are also popular among users due to their excellent quality and reasonable prices.
Supporting services:
Concrete mixers have a service life of up to ten years and may break down during use, so the perfection of the supporting services provided by the manufacturer for the mixer equipment is also a factor affecting the price.
ZOOMJO has a large factory covering an area of 50,000 square meters. We have a group of standardized heavy industrial plants and more than 100 large and medium-sized machining, riveting and welding equipment. It can provide customers with stationary concrete mixing plant, mobile concrete mixing plant, foundationless concrete mixing plant, concrete mixing pump, concrete trailer pump, self-unloading concrete mixer, etc.
ZOOMJO products have been delivered to more than 105 countries and regions, such as Philippines, Indonesia, Malaysia, Singapore, Sri Lanka, Kazakhstan, Uzbekistan, Russia, Ukraine, Ethiopia, South Africa, Nigeria, Jamaica, Dominica, Australia, etc.