Concrete Mixing Pump Working In The Philippines

2023-07-07 17:46
ZOOMJO's ZBJ60D concrete mixer with pump has been in use in the Philippines. This mixer is a pumped concrete mixer delivered to the Philippines in 2021. After comparing with several other pumped concrete mixer suppliers, our customer finally chose us as a partner. We are committed to provide comprehensive pre-sales and after-sales services to our customers and strive to provide quality products and services to build a long-term relationship.
The customer has very good comments on the pumped concrete mixer. The customer is a construction company and they are often engaged in various projects, such as road and small house construction. The customer gave feedback that the machine saves labor costs and takes less time to work than before. He is very satisfied with the performance of this portable machine.
Introduction of Pumped Concrete Mixer
Pumped concrete mixer is a kind of machinery and equipment that combines mixing and pumping functions in one. We offer the model JZR450 drum concrete mixer with lifting hopper for mixing concrete and discharging it into the hopper of a concrete pump when the concrete is ready. The concrete pump can pump concrete to different horizontal distances or to different heights in high-rise buildings and is suitable for various projects such as tunnels, bridges and roads. With two functions, this machine is suitable for most small and medium-sized projects. This trailer-mounted concrete mixer pump is becoming increasingly popular among customers all over the world.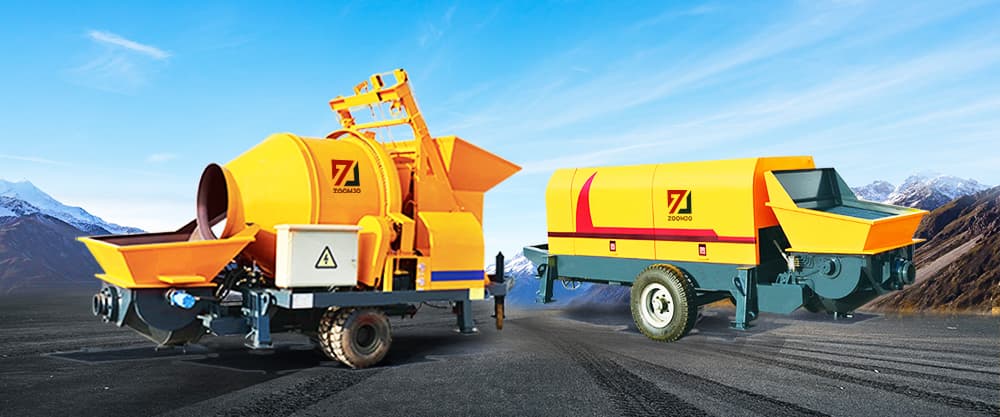 ZOOMJO offers two types of concrete mixers with pumps, including diesel and electric models. We offer our customers a diverse range of options to meet their different needs and preferences. Diesel concrete mixer pumps are suitable for situations where work needs to be done outdoors or in sites without power supply. They are powerful and efficient, capable of handling large volumes of concrete and pumping needs.
Electric concrete mixer pumps, on the other hand, are suitable for situations where work needs to be done indoors or on sites with power supply. They are environmentally friendly, quiet, and provide reliable mixing and pumping capabilities. Whichever model you choose, ZOOMJO mixers are manufactured using high-quality materials and advanced technology to ensure durability and performance. We are committed to providing our customers with high-quality products and meeting their engineering needs.
How to choose the right pumped concrete mixer?
1. Is there electricity supply at the work site? If not, we will recommend the diesel model.
2. How high and how far do you need to pump concrete? We will help you choose the right model to meet the horizontal distance and vertical height requirements.
3. How many cubic meters of concrete do you need to produce per hour? We will evaluate if additional mixers are needed, as concrete pump systems usually produce more than concrete mixers.
4. Are there any strict quality or formulation requirements for the concrete to be pumped? If so, we will recommend a batching machine for accurate input of aggregate and sand weight.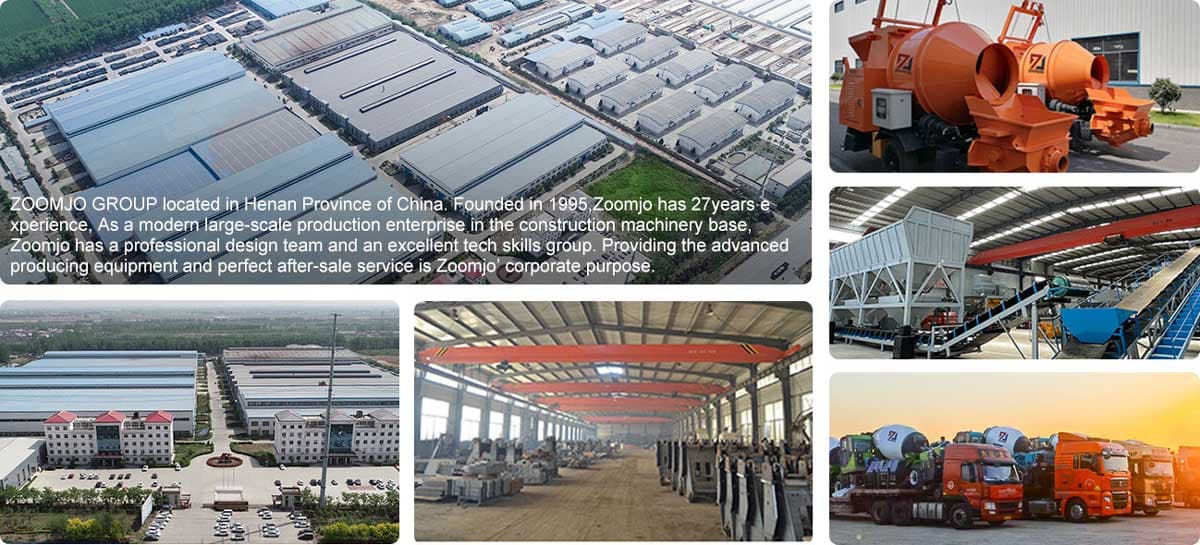 Concrete Mixer Pump Manufacturer in China
ZOOMJO is a professional manufacturer of concrete pump, trailer mounted concrete pumps, concrete mixer pump. We offer high quality concrete mixer pump machine with reasonable price. If you have any inquiry, please feel free to contact us at
Please contact us if you want to visit the project on site or contact our customers to know the working performance of the machine.