Choose the Right Concrete Mixing Plant for Your Needs

2023-06-16 14:44
In the construction industry, concrete mixing plant is one of the indispensable equipments. Concrete mixing plant is mainly divided into two types, fixed and mobile, and understanding their characteristics will help you choose the most suitable equipment for your needs.
Stationary Concrete Batching Plant
Stationary concrete mixing plant is the most common type. Generally speaking, there are two feeding methods for stationary mixing plant. The first one is the skid-steer type concrete mixing plant, which generally has a capacity of less than 75 cubic meters per hour and covers a small area. The other is the belt type concrete mixing plant, which generally has a production capacity of 50 cubic meters per hour or more and has a high stability. One obvious advantage of stationary mixing plant is its long life and stability.

Mobile Concrete Mixing Plant
A mobile concrete mixing plant is a plant mounted on a movable frame. It can be towed by a truck tractor and takes only 1-2 days to install. The cement silo is installed independently of the foundation. In addition, the mobile mixing plant is equipped with sign lights, brake lights and directional indicators, and its overall size and built-in car chassis make it possible to drive on public roads.

Ready Mixed Concrete Plant
In contrast, we commonly see ready-mix concrete produced at the plant and delivered to the construction site in an unhardened and plastic state, ready for use. Ready-mixed concrete is usually sold in cubic meters.
Whether it is a ready-mix concrete plant or a concrete mixing plant, they are essentially the same, i.e., crushed stone, sand, cement, water and chemical additives are mixed in certain proportions to make a finished mixture of concrete or mortar.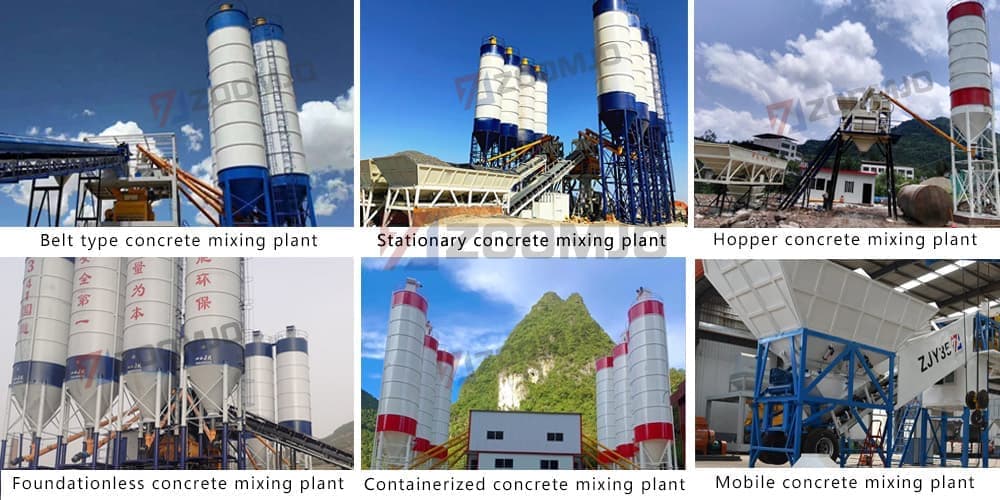 If you have any questions about how to choose the right concrete mixing plant, please feel free to contact us. We are confident that we can help you choose the most suitable plant. We offer concrete mixing plants of various capacities, from 25 m3/h to 240 m3/h. Our products are manufactured in China and have been exported to many countries such as Philippines, Malaysia, Nepal, Russia, Sri Lanka, etc.
ZOOMJO is a professional concrete mixing plant manufacturer. With advanced technology and rich experience, we are committed to providing our customers with high quality concrete mixing plant equipment. Our mixing plants are manufactured with innovative designs and high quality materials to ensure their stability and durability. Our team consists of experienced engineers and technicians who can provide customized solutions according to customers' needs.